Today was a fun day for the kids, but for me... it was pretty much blah. I was feeling SO not modivated in any way, shape or form. I'm still in my sweats for crying out loud! Today is D's birthday too, (Happy Birthday hon!), but work has been SOOO stressful for him today, honestly, I don't even think he noticed what I've been wearing all day. The phone has been glued to his ear all day and well, it hasn't been a good "business day", which sucked! We had hoped to go out for a nice dinner, but with the weather, I made Lemon Pepper Chicken, some mashed potato's, egg noodles, and corn. Not quite the dinner I had in mind, but.. it's freaking COLD outside, people!
Anyways, the girls played outside for about 2hrs- froze their little butts off, too! They kept coming inside, I'd warm them up, throw their gloves and coats in the dryer, then out they'd go again. :) Courtney broke out her boogie board that she got in Hilton Head over the summer, and pulled the girls around on it. They had a blast! Here's a few pictures....
Here's Aspen and Addi, getting ready to get their groove on. :)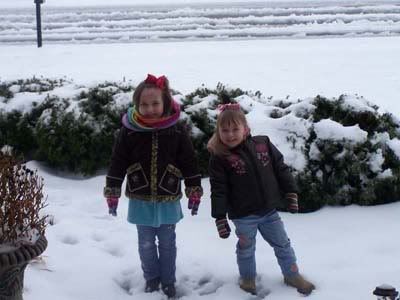 Courtney, Aspen, and Addi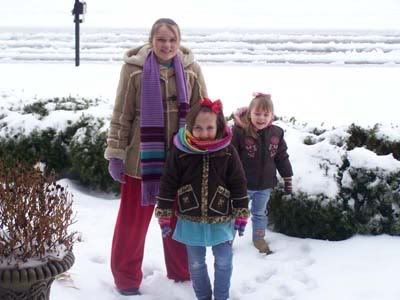 I like this one of Aspen (in front), also.. check out Addi in the background, chompin' on some real scruptious ice! Ewww....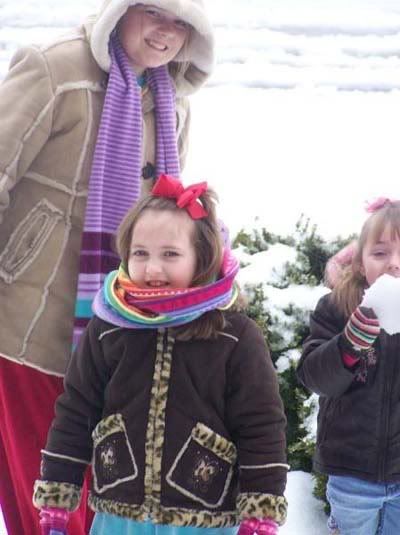 COurtney pulling Addi around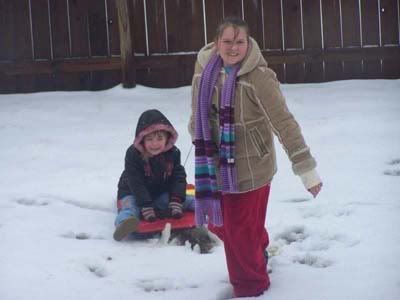 Aspen had a blast!
ok, I bet you're wondering where Savannah is. You know, the child that always wants to test her limits, and makes me want to pull my hair out 3/4 of the day. Oh yeah, THAT one. Well, while the other girls played for over an hour, THIS child was inside, whinning and being MOST difficult because of the clothes that I had picked out for her to wear. Mind you, I bent several times, offering her about 4 choices until she STILL wasn't satisfied, so.... I got fed up and just let her deal with it. I've never, in all of my life, expierenced anyone this indecisive before... ever! It's hard for her to make a decision and stick with. I wonder what that's about? Honestly... I wonder sometimes if it's something due to maybe a chemical inbalance or something. It's not normal... and in the midst of it all, my nerves get shot! Anyways, she FINALLY decided on her "choice outfit", of which, was going to get soaking wet from the snow anyways, but.... don't listen to me. Trust your fashion sense enstead. So, here she is.. in all her glory, the most prized "snow outfit". WOW! What a day with this child....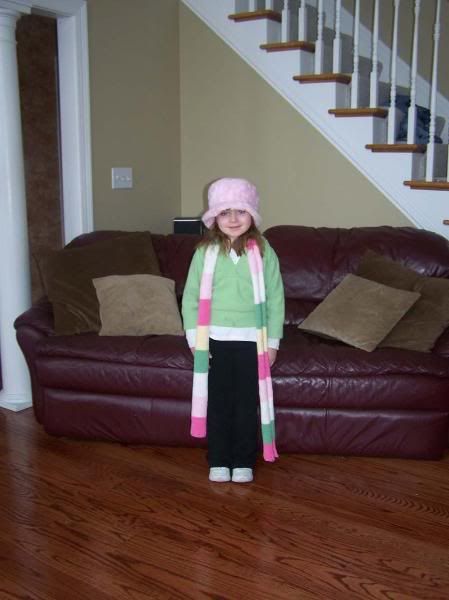 After they came in, and stayed in, mind you... Darryl made them some hot chocolate, which they throughly enjoyed. :) Here's Addi, slurping hers down.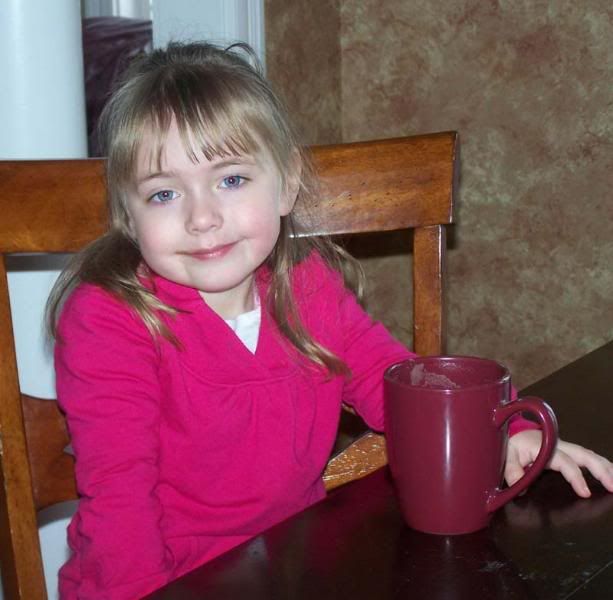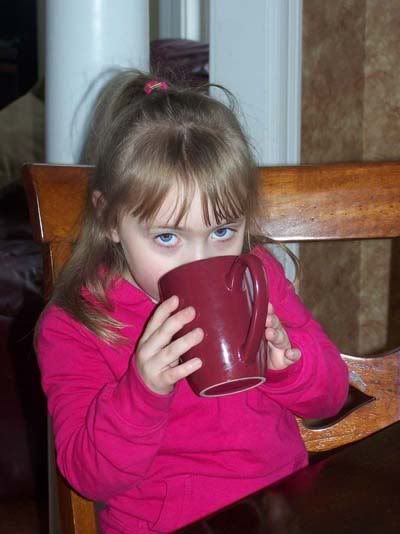 Boring day for me. I planned on cleaning- didn't happen other than the kitchen twice today, and the floors swept twice. I did manage to do one load of laundry, but didn't even bother folding it, so typically, that doesn't count. :) I did have Checely clean the upstairs bathroom, and the girls clean the basement (which, they were the ones who trashed it), so... all in all, cleaning was "ok" today.
We did make the girls valentines day boxes for school tommorow, if they HAVE school tommorow. They have a short week this week anyways, since Thursday is their V-day party, and they are out of school (short winter break) Friday and Monday. So, I broke out my scrapbook supplies which I haven't used in AGES and let them go wild. I was responsible for putting the paper all around the shoeboxes, you know, the fun part (yeah right), then I let them take over. I found them Bratz valentines at the dollar tree for $1, so I was excited about that :) I'm signed up to bring in cookies to Aspens class, and a veggie trey for Savannahs. I didnt sign up for a craft this time, so it won't be so hard to juggle all 4 parties.... when they all have parties on the same day, I stay 10-15min. in each room to make it fair to all of them. :) Ususally works out, but at Christmas I did the craft in Aspen's room, so the other 3 felt robbed.
I was hoping to get some things listed on ebay today... that didn't happen, either. I haven't had any up for about 4 days now.. so, I need to get on this tommorow.
Ok, my darn cat is laying half way on my keyboard now.. he's an inside/outside cat- but he's too much of a pansy to go play in the snow :) so, now he wants to bother me. So, that's my cue. And well, I need to spend some birthday time with D if I can get him off HIS computer. Doubtful.. maybe I'll turn on the election coverage to see how that's going, that ususally gets his attention. :) See ya tommorow!