Wow, so I no more start a blog and I've already slacked by not posting, shocker, huh? :) Oh, get over it! :)
Anyways, here's what's been shaking over this way. First off, we had some ice on Thursday, which forced me to go to the store and actually "attempt" to stock up on food. Yes, you know the whole 'better run to the store" mentality that everyone in the South has when there is even the slight bit of bad weather on it's way. I know, I know.. I'm from the midwest, I grew up with mounds of snow and ice, but sometimes I just feel the need to well, fit in, ok? :) Actually, we had no food in the house and I needed to go anyways. So, it just so happened that the "ice on the way" just gave me the push to do it. Besides, I did a little "speed" shopping, got all my shopping done in 30min. flat. I was quite impressed with myself, now the shoppers that I almost ran over, well... I think they had other words to describe me and "impressed" wasn't one of them. My little "speed shopping" spree costed me a whopping $240, and yet I have found that I still don't have everything that I need. I'm telling you, I *have* to start bulk shopping, it's so outragious at Kroger it's crazy! Anyways, the public schools (Chelcey) were dismissed at 10am because of the weather, but they never (and I do mean never...) let Christian Accamdy out early or let them have a delay in starting. We decided to go and pick them up early anyways, just in case (it was sleeting that that point) and sure enough, we got a call saying that they were indeed closing school early. The girls were stoked! The school was a madhouse, so I got in and got out.....
I was suppose to babysit little Christian (3mo) that afternoon for a few hours, so I was rushing to get home before Dean showed up. The little guy slept the entire time (2.5hrs) so I didn't even get to hold him. :) They asked me to babysit yesterday also, all day- and he was really good. He only slept about 45min. over a 7hr stretched, but he didn't cry one time. He was so sweet.. he just cooed and smiled.. :) Here's a picture....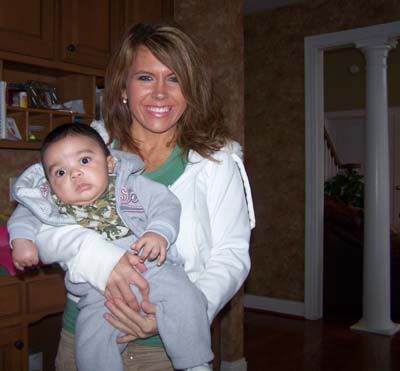 What else? Oh, Darryl has the flu. Yes, you would think that I would be waiting on him hand and foot, being the caring/Compassionate chick that I am when it comes to him. But, ugh.. WRONG. I'm in a weird zone with him lately anyways, and quite frankly... he absoutely annoys me when he's sick. He's SUCH a drama fest. When someone asks if he's sick, or if he ponies up the information over the phone, he has to proceed with a "cough-cough"... it's rather pathetic, actually. I mean, you would think that the boy was dieing or something. I just can't handle him when he's sick, well... for any day this week if you want me to be honest. He's just been getting on my nerves. He's been working from home for about 6wks and well, I think it's time for him to go back to the office. I need a break from him. Plus, his attitude has really gotten to me and is bringing me down. Yes, he has a lot going on with work.. he's been fighting with his brother (don't get me started on that one), and he's under a lot of pressure. But this has been going on for years [the stress and attitude]... I'm just ready for a change already. So ugh, yeah... he's sick. He's been coughing (without covering his mouth *or* washing his hands), and beleive me, I've complained at him all I possibly can, the boy isn't going to change. He doesn't seem to give a hoot if he gets anyone else in the family sick.. but oh, if someone *else* in this house is sick and he's not, you better stay away from him. Ugh.. anyways, enough venting about him already. He just really holds up to the whole theory of men acting as if they are dieing when they're sick. He could honestly be the poster child for it, actually....
I'm making chili for dinner. It's his favorite.. he was really looking forward to it, but earlier today, when I was asking everyone what they wanted for dinner.. he said he couldn't eat. I *could* have made something else, but well.. he made me mad (not going into that one, or we would be here all day...) so, I opted for chili. I know, I'm a keeper, aren't I? :)
I went to a children's consignment sale last night... I've been looking forward to it for about 4mo. now. Well, I bought a few things to re-sell, didn't find anything for the girls, but I did find quite a bit of maternity clothes for my niece. I got home, took the safety pins out of the clothes just to find that the pins made HOLES in 3 of the dresses that I bought. I'm so bummed..... so much for re-selling them on ebay. The turds. Tommorow is their "half price" day, where everything is marked down 50% of all items that are left. I was planning on going back to stock up so I can put together a few lots on ebay, but now I'm wondering if I should just forget about it. I guess I'll go and look things over to see if there will be holes.. otherwise, what's the point, ya know?
Oh, speaking of ebay. I found a NWT (new with tags) Lacoste 2pc tracksuit at goodwill the other day (oh, do I have a story for you on THAT venture....), with a price tag of $280.00. I paid $8. I was *so* excited to list it on ebay because they have really good re-sell value, so I was thinking I would get at least $150 out of it (it's cute, too). Well, I took the pictures, uploaded to the ebay board where I hang out with a question concerning the set, just to be informed that it's a fake. A knock-off.. a "you've been jipped!". So, I can't list the thing. I was (heck, who am I fooling? AM!!!) bummed about it. I already had that money spent (lol). So, I'm going to send the pictures to my Mom to see if she wants it, and if not, see if someone else could get some use out of it. I asked Courtney (it is really cute!) but she hates pink (lol), so.... we'll see what happens. Here's the set.. quite the shame. Oh well, can't win 'em all :)
Here's the thing in all its glory: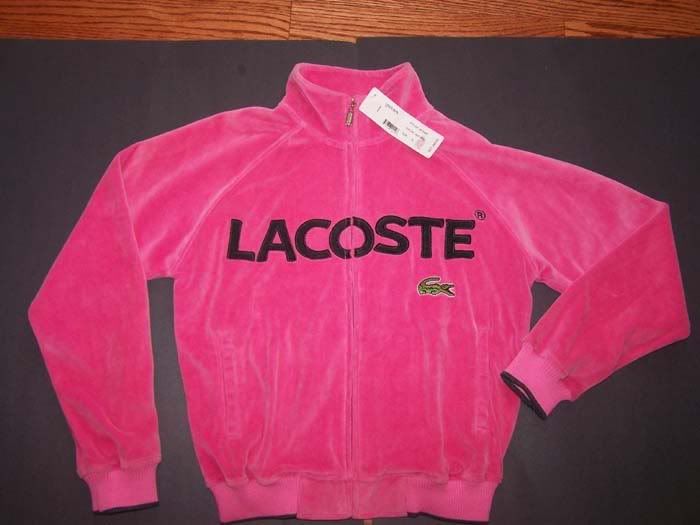 and here's the back of the jacket, cute, eeh? And I'm not even into this brand...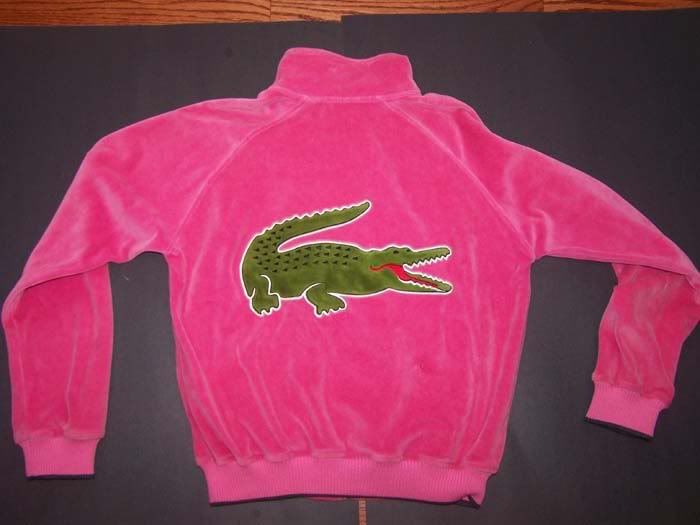 I had to volenteer at the school library this past Tuesday and was *so* not looking forward to it. I've been in a real rut lately, not realy wanting to do much of anything except stay inside or go thrifting (lol).. yes, I'm becoming quite the hermit this winter, but.. it wasn't so bad after I got there and all I had to do was cover some new books. :) I saw Courtney and Aspen (I volenteer when it's Aspen's library time), and I was able to see Savannah from afar- on her way into computer class :) But she didn't see me. Anyways, I went to goodwill after I dropped Darryl and his dad off at the airport (they had a meeting in CHicago), and I had a few hrs. to kill before I had to be at the school, so I thought I'd see if could find any goodies at the thirft store. Aside from the fake Lacoste set (lol), I found 4 tan curtain panels that match our great room perfectly (so excited about that find! They were only $3/ea, too). I also found a white sheet panel ($3) and a heavy velvet green panel (looked EVERYWHERE for the 2nd panel, but didn't find it). But, for $3- I grabbed it anyways. Thought if anything else, I could just drape it around a curtain rode (drapping it downward) in my laundry room. Anyways, I was quite proud of my home finds :) Can't beat the prices, either. I had the itch to go back today (lol), but thought I'd wait until tommorow while I'm out at the kids consignment sale, if I end up going (heck, who am I fooling? OF COURSE I'm going....) :) So, I'll share any goodies that I find. I'm *such* a thrift store junkie, I swear.... I think it's an addiction. I really do... :) It's just so much fun to see what kind of bargains you're going to find. :) I'll take photos once I get the curtains up...
Okay, my chilli is done (Darryl sure is going to love that), and my children are downstairs playing soccer. Don't ask. It sounds horrible in here... bang, bang, *scream* scream*... whatever. As long as no one gets hurt, they are having fun, and they don't put a hole through my walls down there, it's all good. :)