Hey peeps, yes... I'm still alive- thanks for the emails :) LOTS to update on, but... I wanted to pop on and share a few photos from this life of mine. :)
Saturday was Chelcey's 15th birthday.. can you beleive that? *15*! Now how's THAT for making ya feel old. I cringe when we're out in public and this daughter of mine, who hovers over me nonetheless, pipes up and says "MOOOOM!"... people look at me like "really?". It's the shortness, I'm sure, but man.... that whole "I have a 15 year old" really tells your age. The whole "30 something" applies to me now. When someone asks, I say "30 something".... I think I'll continue saying that, even when I hit *gasp!* 40, and really, that's not too far off. Oh my.... this post is starting out depressing already :) So, I'll shut-up about the age thing now. It was gorgouse here for about 2wks, so the girls and I Have been spending a lot of time at the park. Of course, I had my camera in hand ;) So.. here's a few pictures of my darling daughters :)
Addison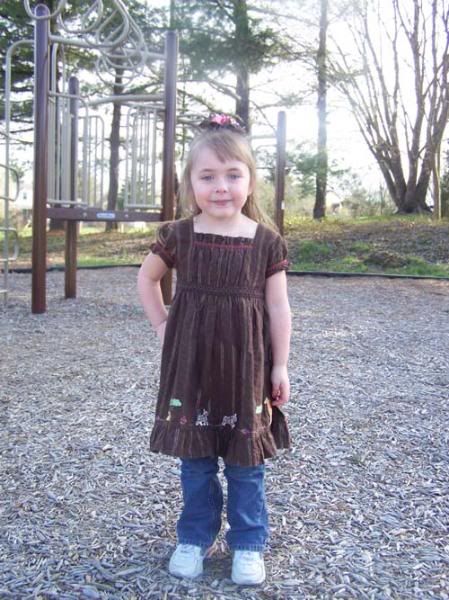 Aspen and Addi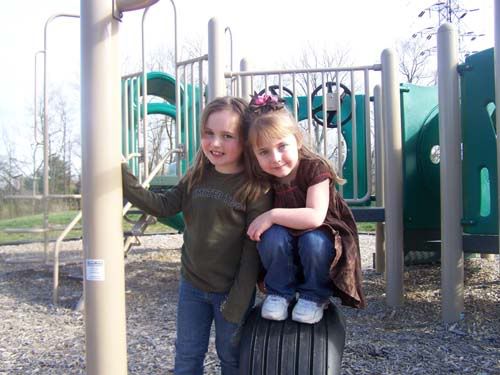 This is Aspen's "new thing" to do and it freaks me out (hey, I'm a Mom)..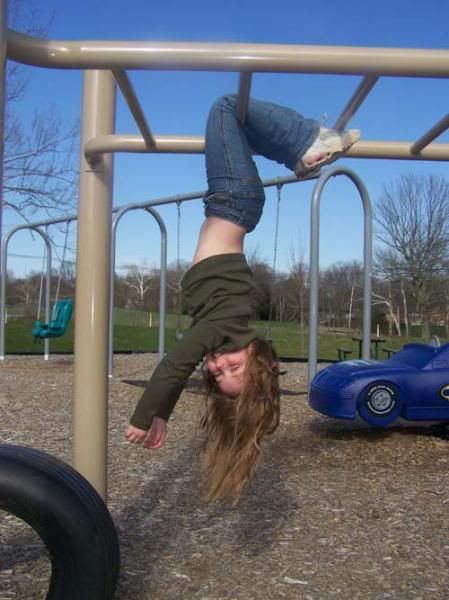 Se also LOVES the monkey bars- LOVES them! Okay, she's OBSESSED with them....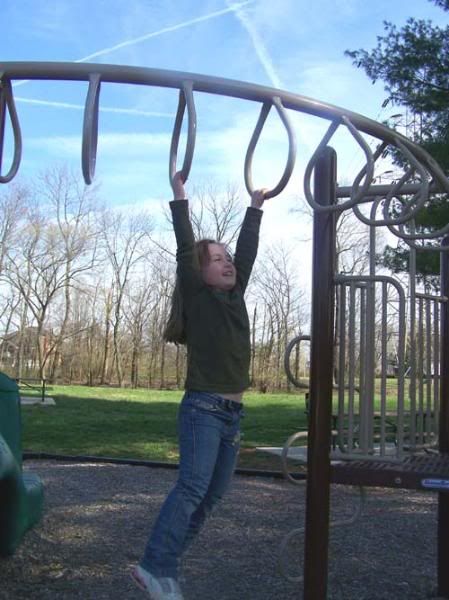 And, Addi finally learned how to do the monkey bars, too! :) Proud day for her, she was all smiles when she made it across.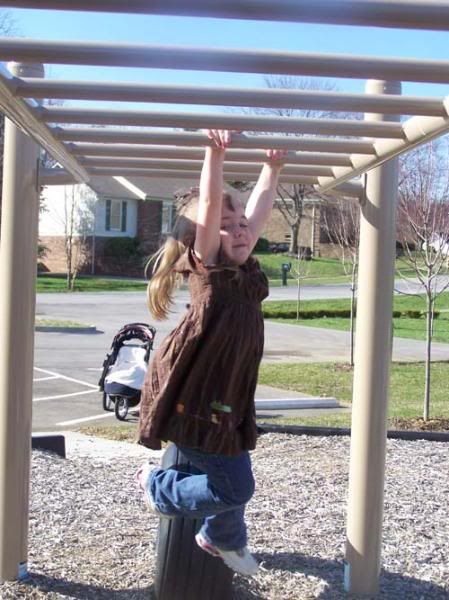 Sis and Addi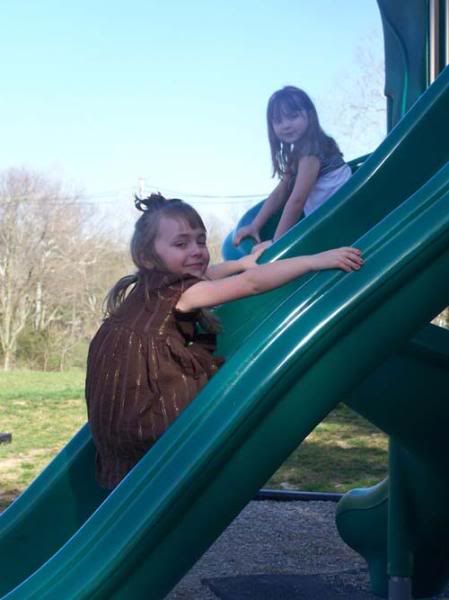 Savannah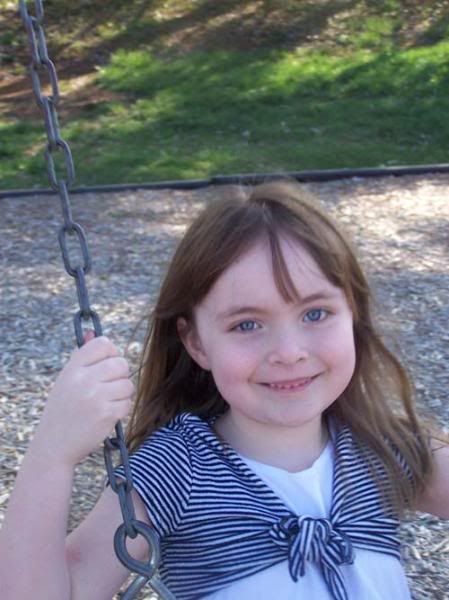 Court and her friend Holly :)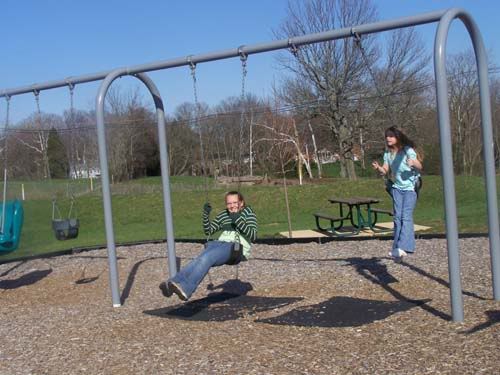 Chelcey was at school when those were taken, but here's a shot that she took of herself :) out in our field-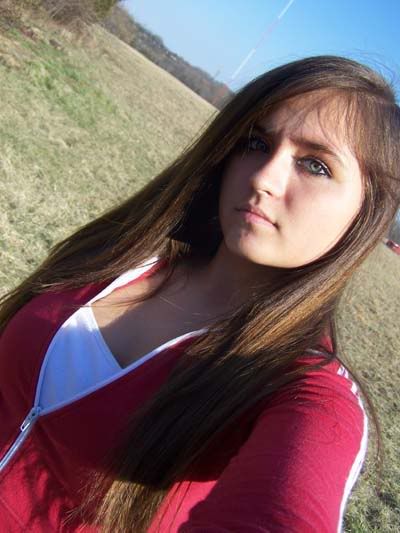 And, remember the bake sale at the church where I had to actuallY BAKE? Well, I'm happy to report that I made brownies, a lemon cake, and well, I BOUGHT an apple pie in case the other 2 were failures (lol)... here's proof that I actually BAKED. :) (don't fall over... it's true, I *really* baked!)... :)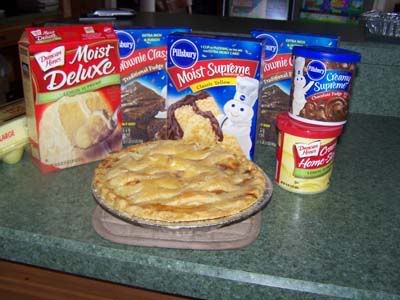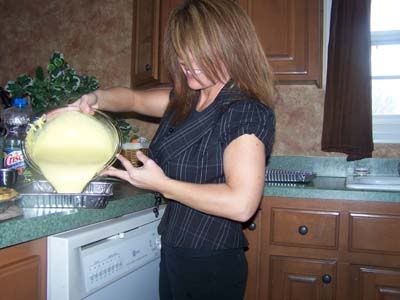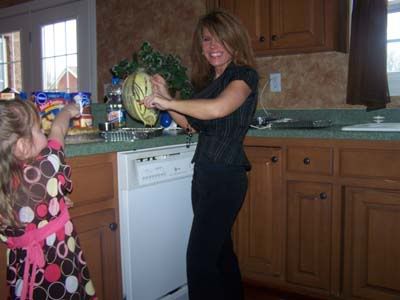 This is how the darn cake came out at first.. lol.. a little lopsided sally, huh?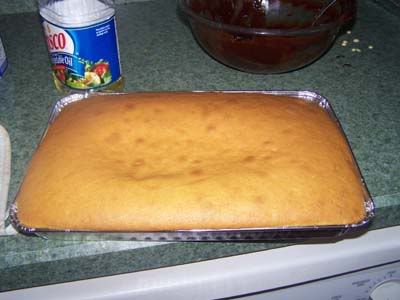 I look TOTALLY haggered here (lol)... so, ignore my crazy face here (Talk about looking ROUGH!)... but :) had to have D take a shot of the cake before we left for church.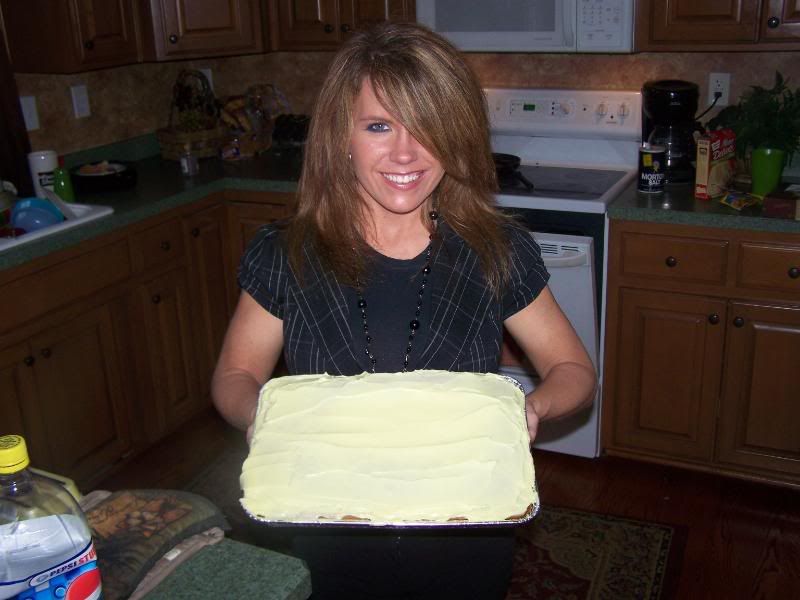 The pitiful thing was, I put the brownie container (which just came out of the oven) on TOP of my cake pan, which.. resulted in the darn icing for the cake to yes, MELT. It was a HORRIBlE mess :) BUT.. my brownies sold for like $22, the cake sold for like $25 or so, and the pie sold for about $17. D even offered to pay them $20 to NOT auction the darn melted cake off (lol).. but, Darren didn't listen. :) Hey- it SMELLED good, it just didn't LOOK the greatest (lol)...
That same night, the girls put on a special kids program at church. Courtney got to sing on stage, while the younger girls got to put on a hand chime program. My camera does HORRIBLE with lighting issues, so.. the pictures came out horrible. BUT- thought I would post them anyways. Little blurry and the lighting is off, but... oh well.
Here's the hand chime bells... (boy, this one gave ya a headache- lol) :)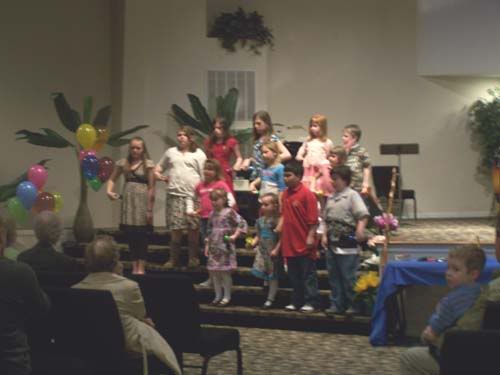 This was a cute puppet show that the kids put on :) Really cute....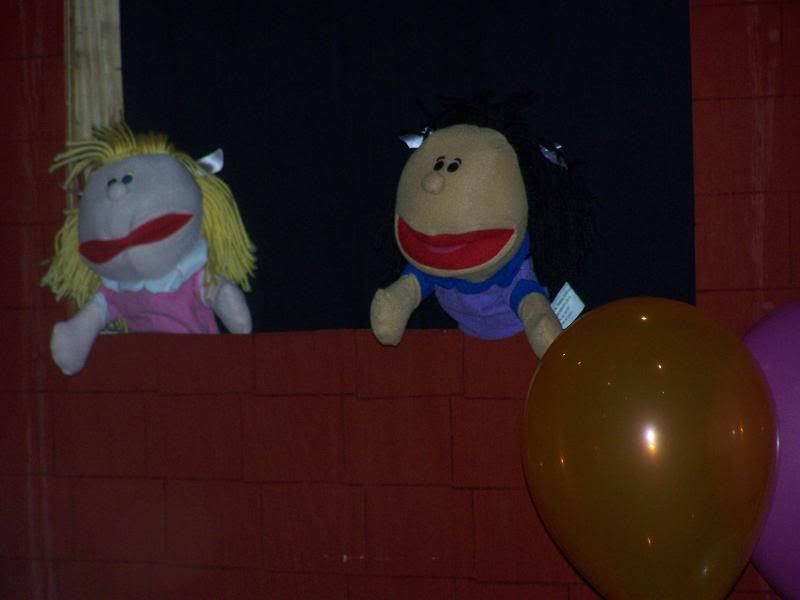 Here's Courtney singing...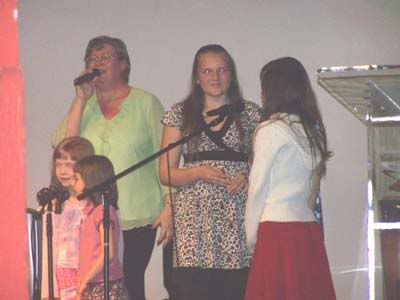 Here's Courtney before the program. Her hair was actually DOWN (she always wears it in a ponytail- so I had to take this shot while I could)... I am SOOO over this shirt, though *gag*.... this is her fave. shirt and one would never know. The kid wears it ALLLLLL the time! I picked her up a few things yesterday and plan on taking her shopping later this week.. the girl NEEDS new clothes and it's so hard for me to find her things because she's at such a weird "in-between" stage in sizes.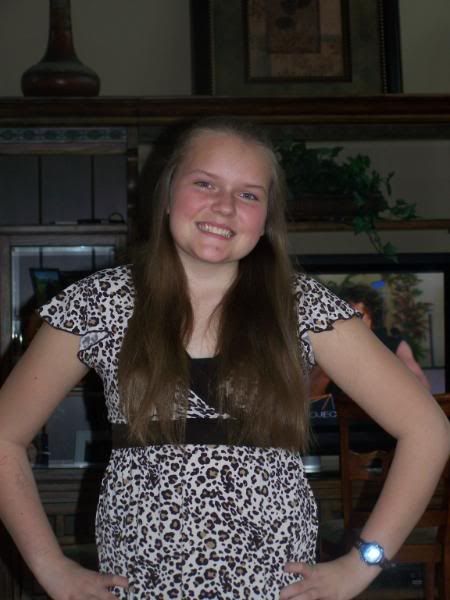 Here's another shot.... she's wearing wedges here (she loves them, low-wedges mind you, but my little girl has actually GROWN UP!)...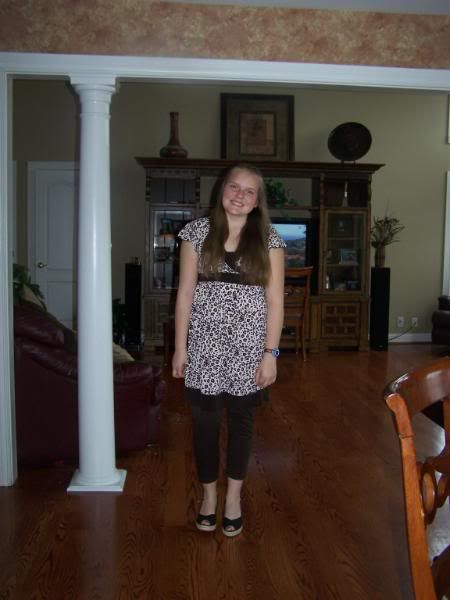 Here's another shot of her singing.. this one, I think, came out a little more clear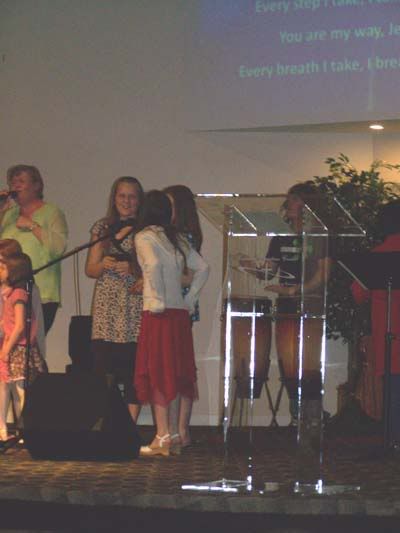 Oh, the weekend of the Church sale and the big "garage clean sweep", we also FINALLY put together the girls new kitchen set. This was the only way we could con them into donating their old plastic set. Hey, nothing like Christmas in March, huh? :)
Here's their set... we thought it was going to be more pink, but it's a very pale pinkish lavender color. Anyways, here it is (finally!)...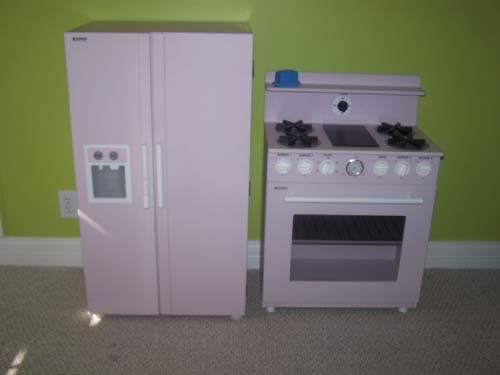 Love this shot! These are my children ZONKED out on the couch after a long day playing outside. :) Sissy, of course, was running around with no shirt on (typical, hey- just be glad she had on pants)- but we were all sitting on the couch, watching "Jon and Kate plus 8" on TLC :) LOL- and they zonked out :) Had to snap a picture because man, do they look a mess or what? LOL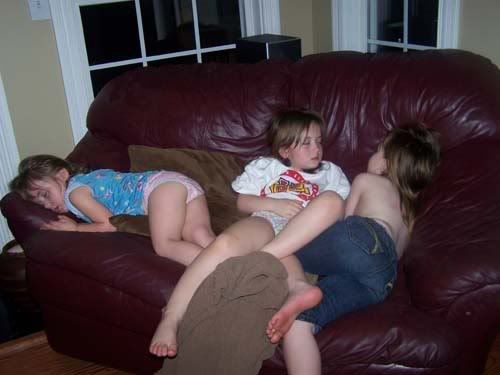 Aspen LOOOOOVEs to climb trees, her new thing. She has to climb every tree that she can :) Here's a few pictures of her in action :)
This one is cute :) It's out little tree in our backyard... she makes it look so easy, doesn't she? :) I like to call this shot "One arm, Willy"... :)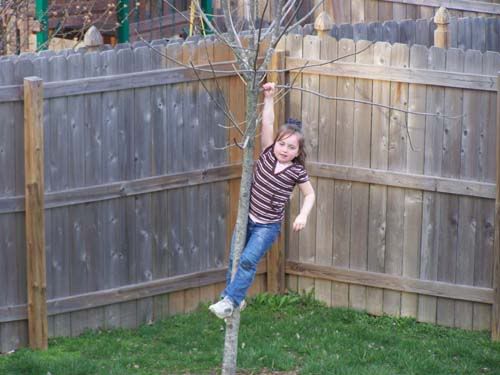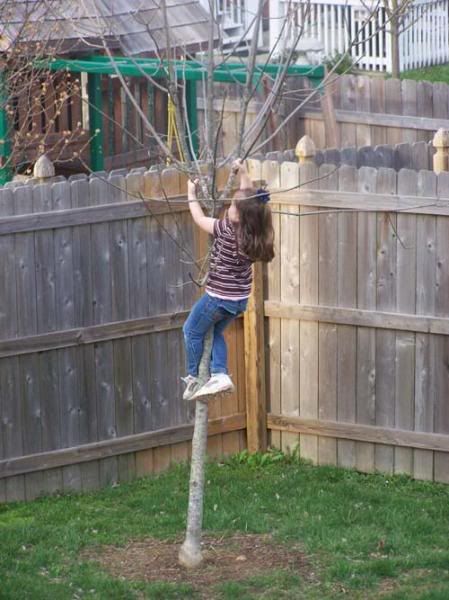 Here she is the next day, in our front yard :)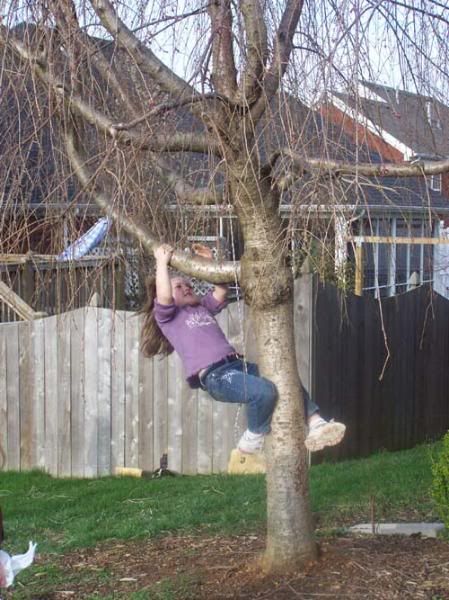 LOVE this picture.. we have 2 boxers that live next door. They have chewed a hole through our neighbors fence and Scott & Merrel just put a rock over the hole so they can't get out or chew anymore. Well, sometimes this thing gets moved... and the dogs like to put their heads underneath the fence to "check things out" and see what's going on in the "outside world" :) The girls LOVE it when they do this.. it cracks them up (the dogs are harmless, they are just bored, I guess...).. lol. SO, I had to take a few shots of them in action.. how cute!!!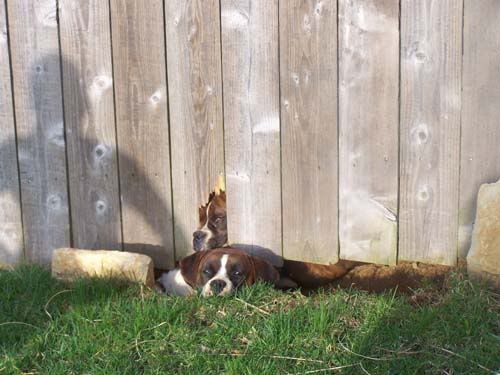 And, as long as I'm sharing Dog photos.. here's one of Sadie, our cat who always has to lay in the WEIRDEST postions :) The cat isn't normal. This is him sleeping on our bed. Ignore the half made bed- it *was* made, but this was over spring break and my 3 of my little girls like to JUMP on my bed, even though they have been told NUMOUROUS times not to. Ugh-hem! And yes, that cat is sleeping and not stretching.. he's a weirdo, I know....
Here are a few pictures taken last week after church....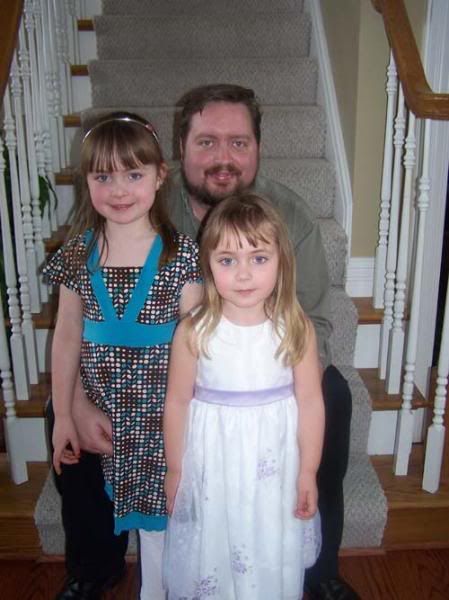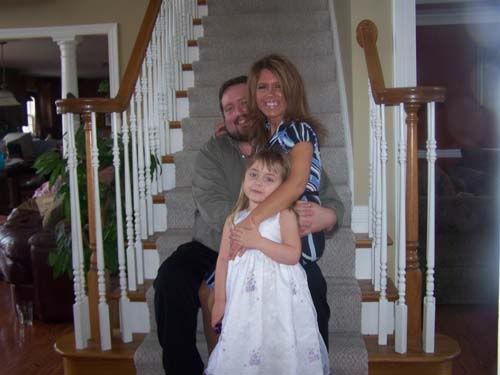 This, is Savannah's photograghy skills... isn't she good? :) LOL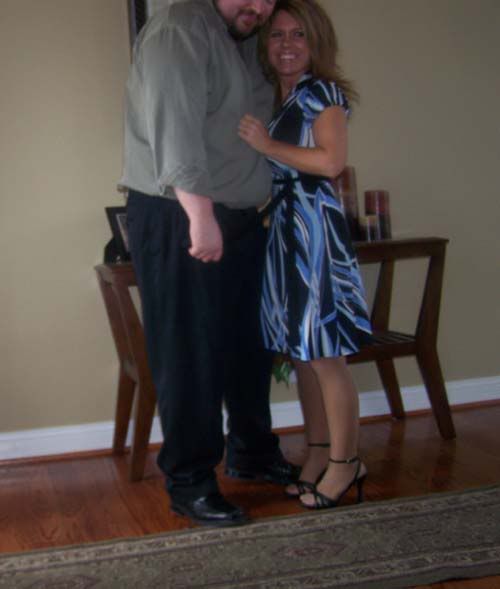 My child Savannah *always* (and beleive me, I DO mean always).. has a crusty, yucky nose. I don't know what it is... she always has boogars up this thing. It's nor normal. Well, her nose was just WRONG this day and I kept telling her "Savannah, your nose is really gross right now- please go to the bathroom and get a klenex".. she laughs and laughs, and refuses. I tell her to come with ME to the bathroom, and *I* will clean it, oh no.... that would be too easy. So, I told her to smile and let me show her how GROSS her nose is and what other people are seeing when they look at her... so, I snap the picture.. she laughs her butt off, screams "Gross" but still refused to go get it cleaned up..... THIS is my child :) we call her crusty....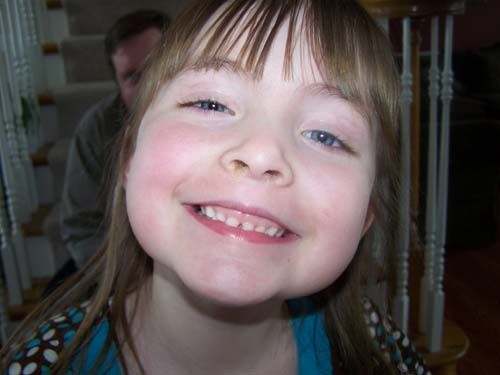 Grandparents day at school was 2wks ago for Savannah's Kindergarden class and I took a few pictures. This is our favorite teacher in the world- Aspen had her last year, Savannah has her this year, and thankfully Addi will have her next year :) We LOVE her to death... you will never find a more calm, sweet spoken lady as this one!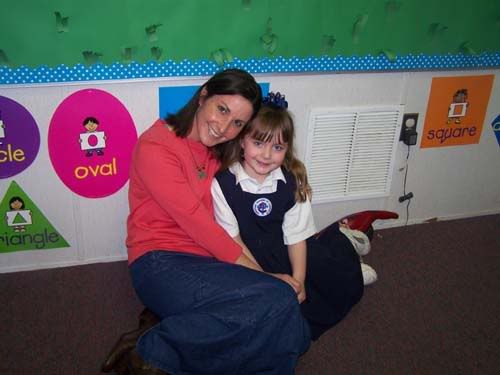 Here's Sis showing Papa (D's dad) the book she made him in art class.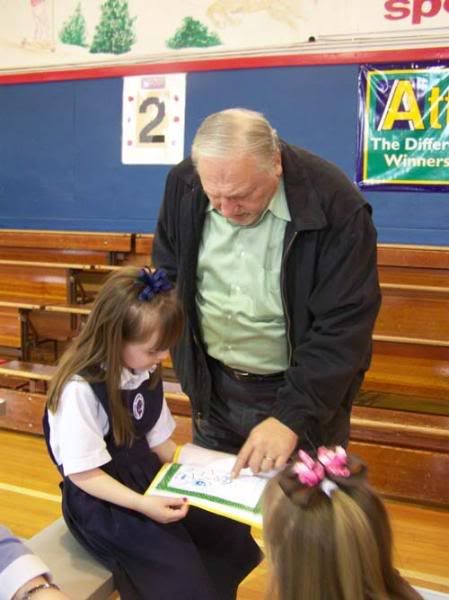 Here's a shot after the program that we were allowed to go up front and take pictures of the kids.... only the kids were no longer "in place" :) lol... Sis is on the right... she did really good. :)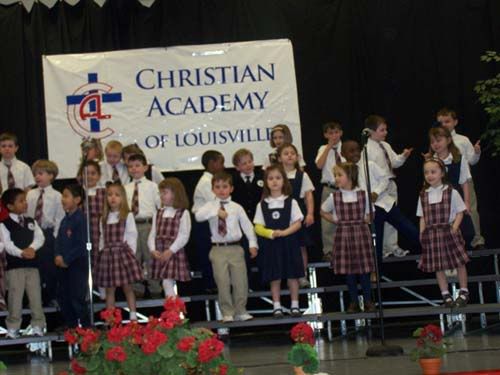 Here's Papa with Sis and Addi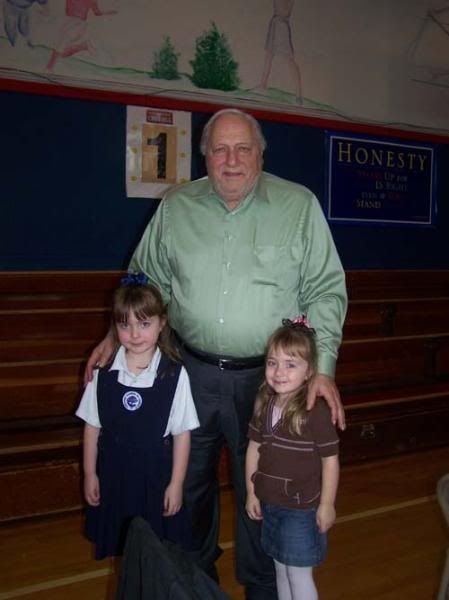 Here's a few pictures from last week when the girls were playing outside....
My little heathens (lol)...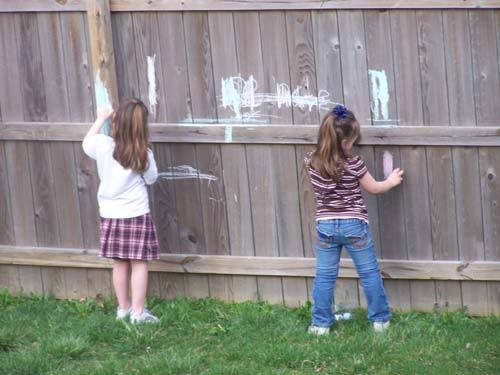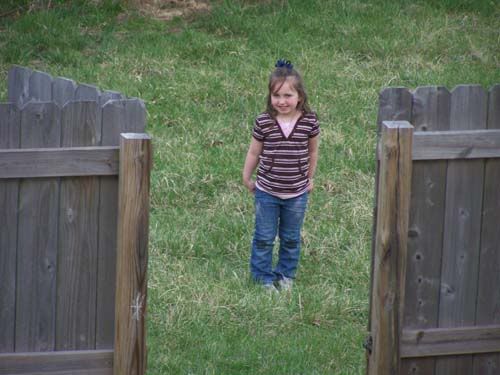 And, would a post be a post without me sharing my good thrift store finds? Yeah, I didn't think so. I found these awesome 4 panel curtains from Linens & Things at Goodwill for $2.50/ea for Chelcey's room- PERFECT color and they look brand new! I was SO proud of this find! :) We also found a curtain rod in the garage when we cleaned it (go figure- lol)... so, now we just need to hang those suckers up and we're good to go :) D put them on the rod then put them on our entertainment center to see what they would look like- so, I snapped a picture :) Pretty cool curtains for a total of $10, doncha think? Yeah... I'm good. What can I say? :) *THIS* is why I love thrifting.. you just never know what you'll find :)
D putting them up (ignore the fridge next to him, this was the same day that thing got set up, too.... lol)...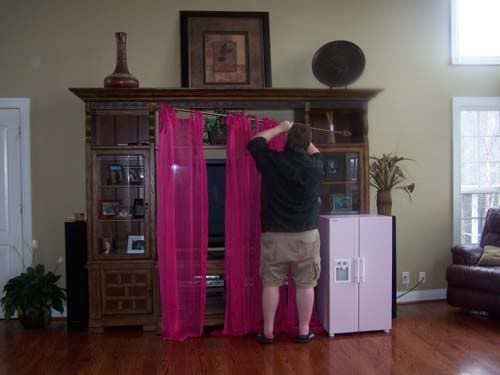 and, here they are :) so cool!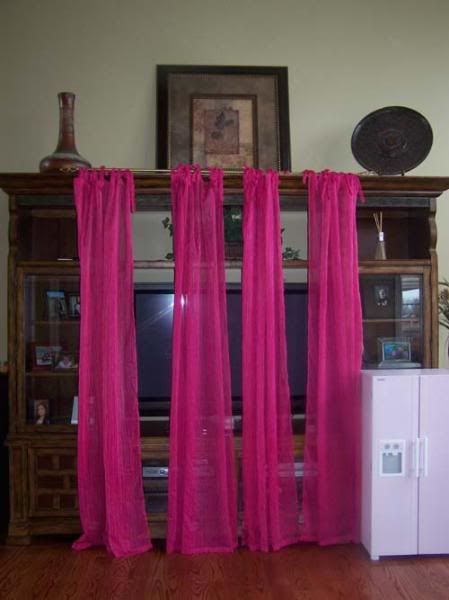 The girls (Chelc and Court) went to TN with their dad for a few days last week. Seemed like they had a nice time. He took them fishing and I guess Chelcey was dancing around the lake, being the weirdo that she is (lol), listening to her Ipod, and ended up falling into the lake (lol) *and* she caught a fish. No one else caught one- thought that was pretty funny!!! :)
Need to work in my yard this week once the rain stops..... I need to call a new landscaper dude to have him start mowing our grass. We found a guy last year who charged us $30 per mow, which is SO worth it, but he would always skip a week and our yard looked horrible. So, D apparently found another one who only charges $15 per mow, so.. we'll see. I just want him out here because I can only have my girls play "Go see how many dandlions you can pick out of our front yard and whoever picks the most is the winner" game so many times in a week before they get tierd of it (lol). :) I need to put out some flowers in our planters, too.. I'm SOOooOO ready for flowers! :) The dogwood trees around here are in full bloom and GORGOUSE! Our tree in our front yard (so pretty) is starting to bloom, too.. can't wait. It's a killer on the alergies but man, it's gorgouse!
Okay.. shew! How's THAT for an update? Off to shower because I need to pick the rugrats up from school at 2:30pm. They started back today after Spring Break and I thought they would have a rough time this morning, but it wasn't so bad! They weren't even late :) Always a good day when that happens.... ok. Hope you enjoy the pictures and I'll be back with more soon :)
see ya!