I'm so happy that it's Friday.... we don't have any plans [yet] for this long weekend, but I'm just excited about sleeping IN! (lol)..
Today is Chelcey's LAST DAY of 9th grade and she's *so very glad*. The other girls go until Thursday and Friday of next week (Sis has her Kindergarden gradution on Thursday and she doesn't have to go back to school on Friday), however, the Courtney and Aspen have to go a HALF day on Friday, which.. is the most strangest thing ever. But, whatever works..... :) The girls are just ready for summer to start. I need to work on a chore list and activity list for us this summer to keep us all in line. I want to dedicate at least 3 days out of the week to do "something" educational just so their little minds don't turn off for when school starts back up. I think it will be a BIG adjustment for Savannah going into the 1st grade, so I want to be proactive with her this summer... in addition to having her tested for auditory processing problems with the OT, and just really focusing hard on getting her where she needs to be- to be PRO-ACTIVE verses RE-ACTIVE, ya know? Addi is doing great, but I want her to REALLY breeze through kindergarden next year, so working with her and Savannah on the same level will be pretty easy to do. I will continue reading with Aspen and really working on Math with her.... she's done so great this year, but she had a rough start (big transition from K to 1st at this school), so I really want her to be armed and ready when she hits those doors as a 2nd grader. :) Courtney and I will be going to the parent/teacher store together to work on things on her level (hey, maybe we BOTH can learn a few things.. LOL :) :)).... Anyways, so- I want to have a "Plan" for summer, not just "it's party time! Go run wild!".. ya know? :) I know, I know..summer hasn't even STARTED yet and I'm already thinking about all this stuff. LOL...
Anyways..... I had posted a long post (with pictures!) the other day when we got back from Addison's preschool fieldtrip to the zoo, but at the VERY end of my post, the thing didn't save and I lost everything. Needless to say, it made me mad and I haven't been back since to update it. :) LOl...so, we'll try it again.
Weds. was Addi's trip to the zoo and we had a great time! :) D decided that he wanted to go hang out with us, too, so that was cool. :) It's not everyday that Addi gets to spend time with just mom and dad by herself, so.. she loved it. :) Here are some pictures from our day....
Addi with her buddies, Lilly and Julieanne....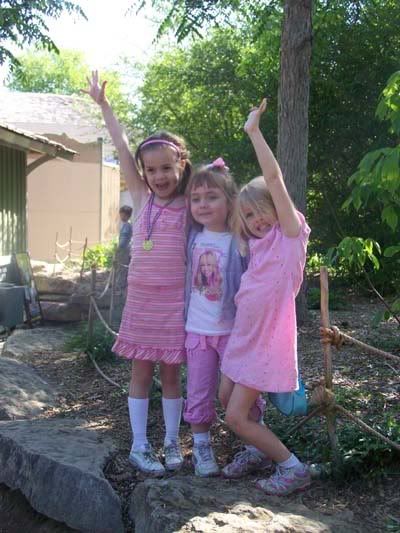 Love this one with little laura on the end (I love her) :)...
Playing on the rhino :)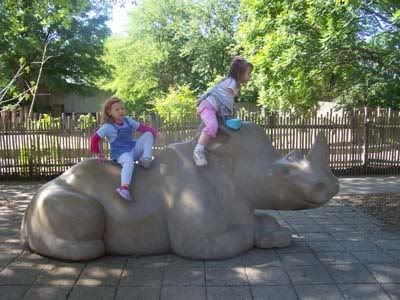 Dad and Addi checking out the rhino...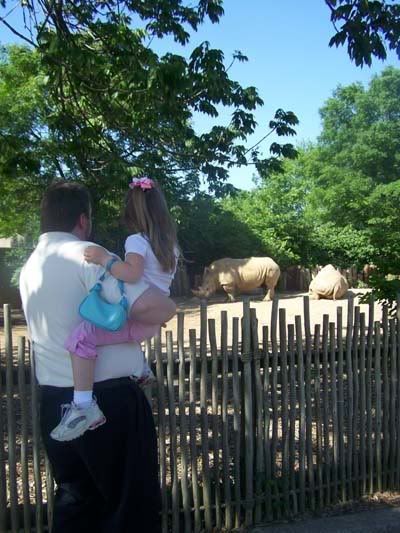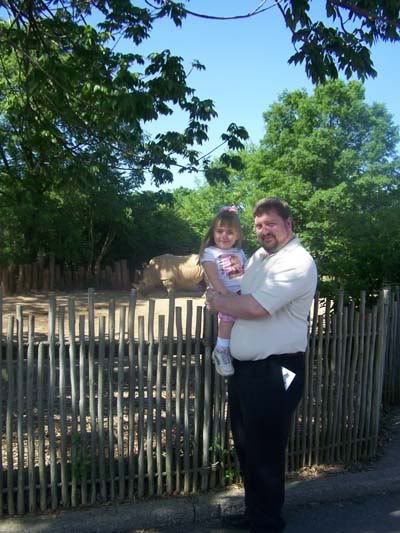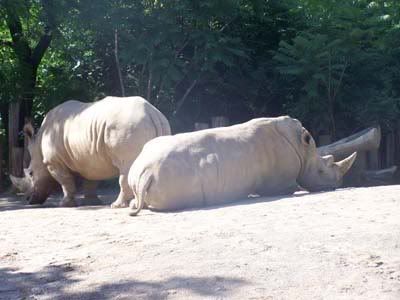 Baby elephant scratching his nose thingie (lol)... umm. his TRUNK, that's what it is ( :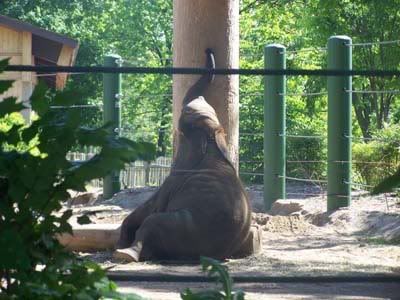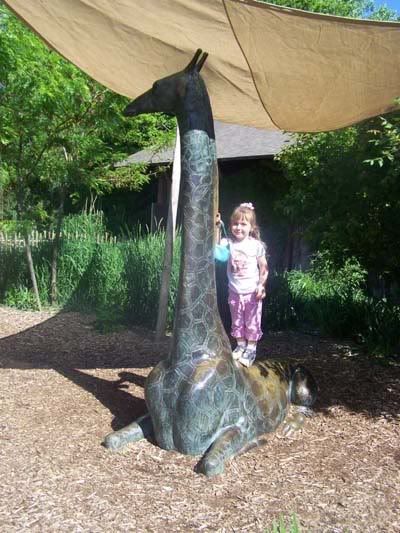 Addi coudln't *wait* until she got to ride the "horsing ride" as she called it :) She was more excited about THIS then she was the animals :)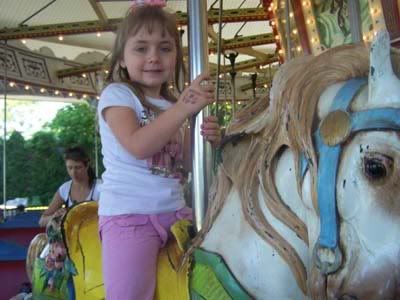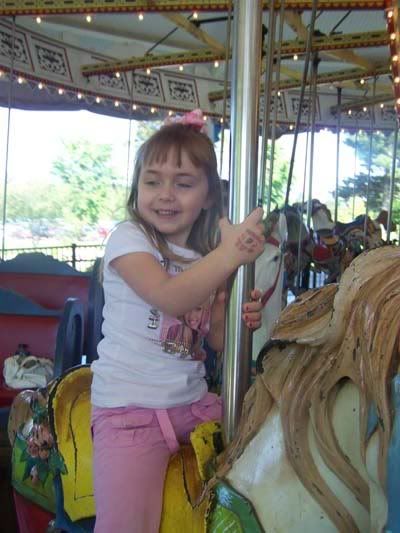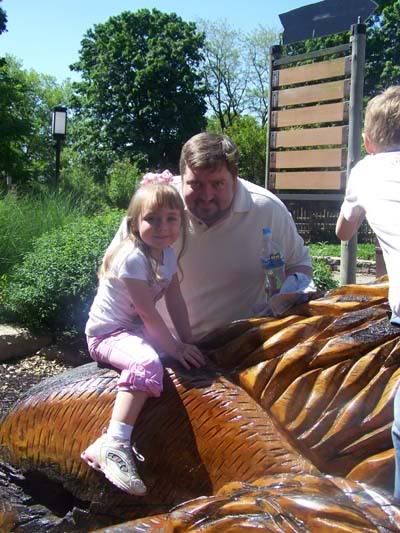 And yes, I wore HEELS to the zoo.... does that surprise you? :) LOL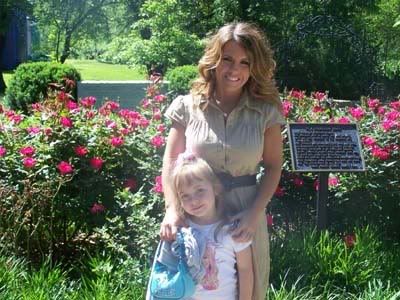 We liked this cool polar bear dude...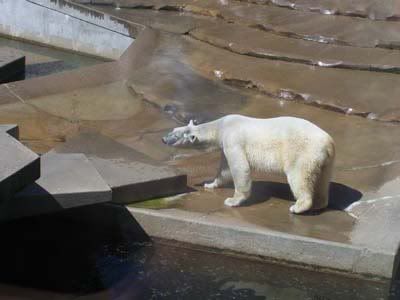 and the gorillas, they are always fun to watch :)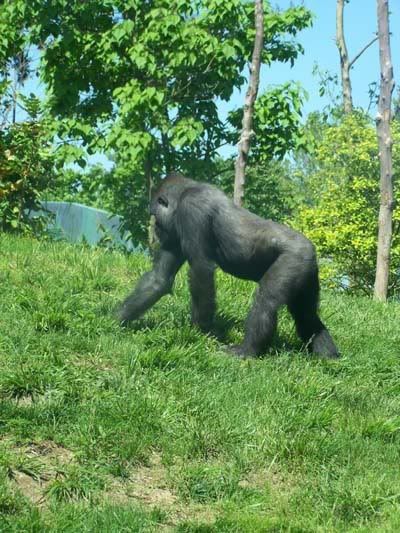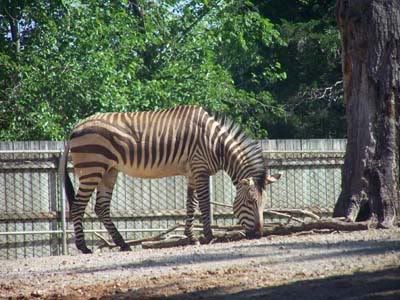 We had a great time! Afterwards, Addi left with us and we all went out to lunch and just enjoyed our day together :) Of course, we were all POOPED that night.. but, we had a fun day!
Tuesday evening was Courtney's Spring Music program at school, so I left the little ones with D and went solo. A lot of us were planning on going out for ice cream afterwards, so... I knew it would be easier on us to go by ourselves (me and Court). :) My batteries went dead in our camera so I got 2 whopping pictures (I know, right?).... they are really dark, but once I try to lighten them up, I'll share. She did really good. We then we to ice scream with Melissa/Breanna, Susan/Morgan, SusanS/Katherine, Tim/Whitney, and a few other parents. We had a good time... we laughed SOOO hard :) Courtney and I didn't end up getting back home until 9:30pm :) it was nice to spend "solo" time together with her friends, ya know?
So, between field day on Monday, Music program on Tuesday, Zoo on Weds,... It has been a busy week! D had to go to Columbus, IN today for a meeting (hotel side), so I was up pretty late last night helping him with the presenation, so... I was ZONKED this morning....
Courtney has REALLY grown up over the last few months.. the transformation of this child still boggles me. She's really matured and just has that "older" look now.... it's been so fun to watch. With Chelcey, she was always more mature for her age and always was really "girly".. but with Courtney, she was just the opposite.. until now. :) It's been a fun process to watch.. here are some photos of her and Chelcey last week...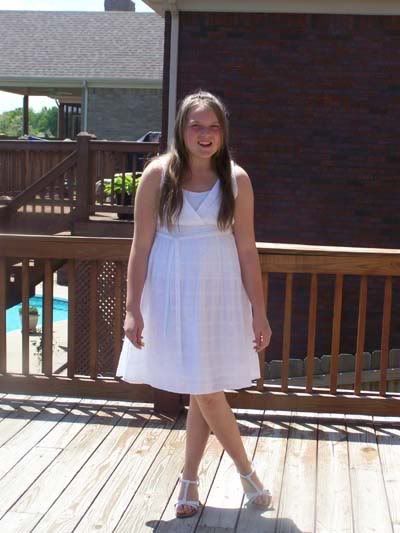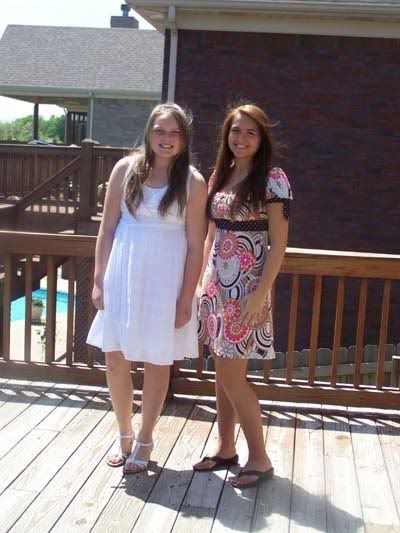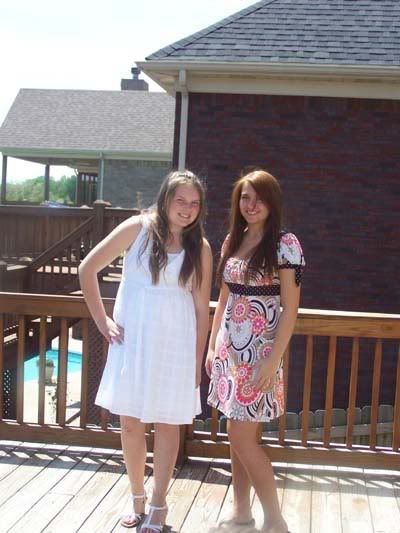 and, here are some others from the same day... I shared some of these last week but I didn't get to resize all of them, :) so.. here ya go!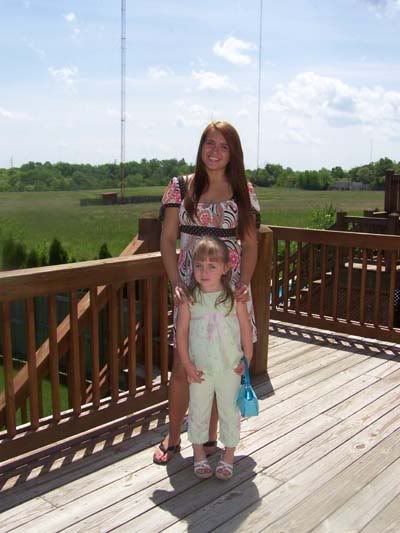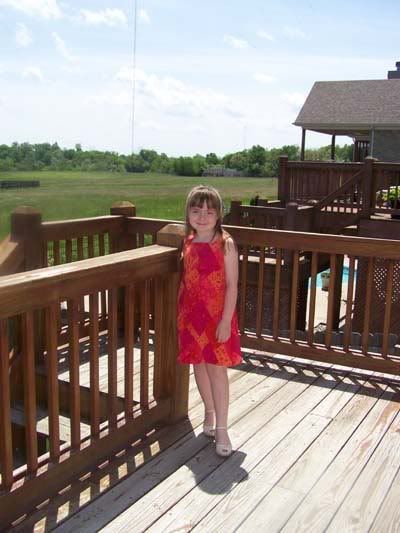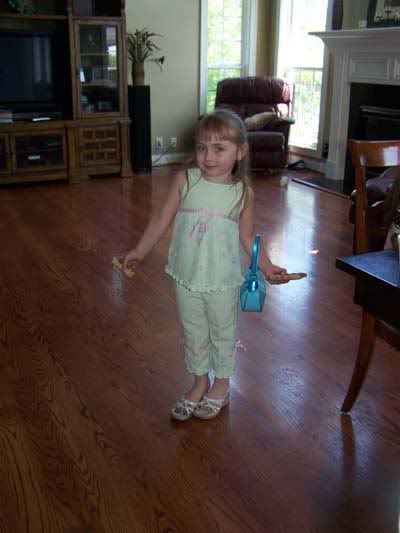 can you beleive that THIS ONE will be *18* in just 3 short years? I was thinking about this today...... time goes by SOOOO very fast!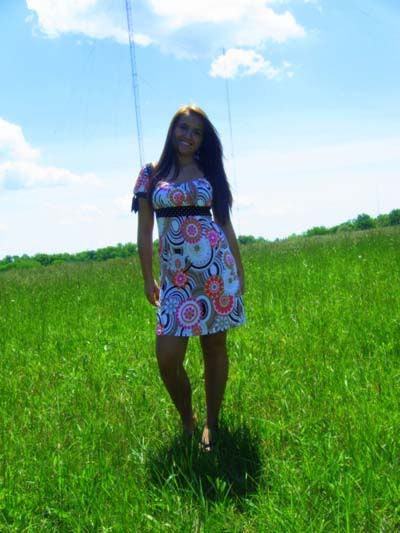 I have LOTS more pictures to share that are on Chelcey's computer (she dumped my camera on her harddrive (ugh).... I have some GREAT ones of the girls playing "Dress up" with Daddy-- putting hair pretties in his hair, putting make-up on him... it's actually very funny, and quite scarey at the same time (lol)... but, I will share those hopefully tonight.
My house is SUPER quite right now with D gone.. ususally, I get no "quite" time when no one else is around (such a rare things since D started working more from home), so awwwh.. the only sound I hear is the washing machine and dryer going :) It's SUCH a beautiful thing (lol). I'm thinking about throwing on some tennis shoes (don't freak- lol) and going for either a run or a long walk..... it's SUCH a nice day out and well, when I'm wearing these yoga pants and sit down in my chair like I am right now, I have this flabbiness on my bootey that I'm not liking the way it looks (lol)... so, ugh... I think sitting like this was the modivation that I needed to get off my computer and go exercise! Maybe I'll go re-introduce myself to that treadmill that we bought late last summer last year... the thing is covered in tile dust from D finsihing up the bathroom in the basment (still working on it, don't say that doesn't surprise you! lol).. so.. maybe I'll go pull that thing out of there, dust it off and see if it still works. Chelcey claimed that the babies broke it (I say "babies", but well... the "little ones" I guess is more like it).. so.. I want to see if the thing even still works. It would suck if not because I only used it for about a month and then nothing since.....
OKAY... need to go while I still have 2 hours before I need to pick up the girlies from school! Long post, I know... but hey- after losing everything on Weds., what do you expect? Have a WONDERFUL day... and I'll talk to ya soon :)