Ok.. here's a few pictures that I promised from this past week. I have about 50 more on CHelcey's computer that we need to burn own to the swap drive, so.. those will be shared over the weekend :)
Okay, first the cow picture... and a story to go along with it :) Sissy had a "Mothers Day Tea" in her class last week. You have to walk through the front office to sign in when you go to their school, then you walk through the lunch room, then you have to go through the outside courtyard (where Addi's pre-school classes are) to get to the actual classrooms. I no more walked out the door and saw this BIG 'ole cow that I was soooo not expecting to see. I piped up "HOLY COW!"... this lady behind me chucked and said "No pun, intended!".. (I *always* say "holy cow" )... It's not every day that you walk through that courtyard and see a big cow just standing there.. scared me half to death :)LOL.. I'm there (all) the time, so seeing this sucker just REALLY through me off. The school brought in a "petting zoo" for the kiddos that day... a cow, chickens, goats, all kinds of fun "pettable" stuff. Oh, and the cow's name is Aspen- (for real!) She got a BIG kick out of that.. so did her friends.
Aspens class happened to be getting ready to go into the "petting zoo" as I was walking to Sissy's class, so I got to hang out with her for about 10min. before zooming off to see Savannah :) Worked out pretty good, actually....
Here's Aspen, [the cow] that scared the living day lights out of me :) Hey, tell me this sucker wouldn't have scared you, too. That sucker is BIIIIIIG!!!! :)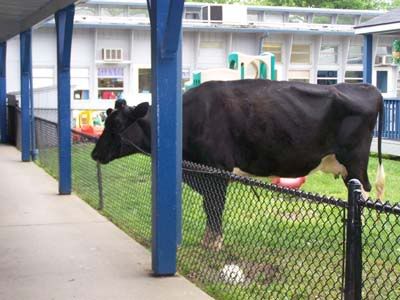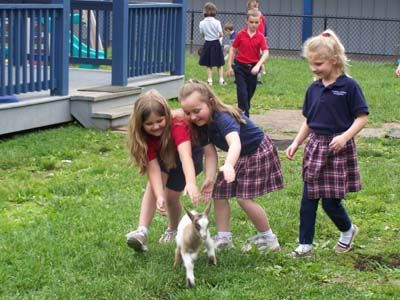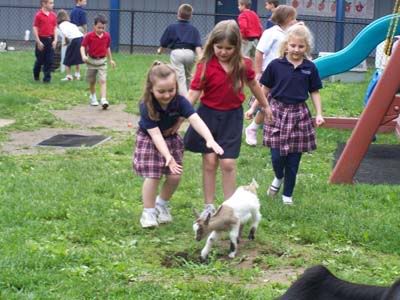 And, here's the pictures from the Mothers Day Tea. Sissy made quite a few things for me (as did the other kids for their Mom's)... her teacher, Mrs.Passifume is the *best* teacher a parent could ever hope for. We love her dearly :( and we're so sad that she had to transfer to the English Station campus (our school had to downsize to 2 classes per grade due to lack of enrollment :( We're SOOOO sad- I even shead tears! We love her to death.....
Me and Sis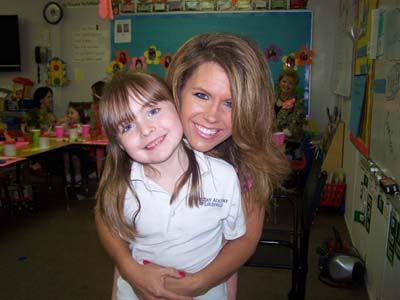 One of Sissy's gifts for me... she also made a book and decorated a flower pot.. so sweet.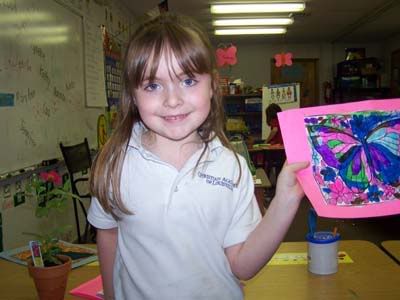 Sis and her friend Lauren...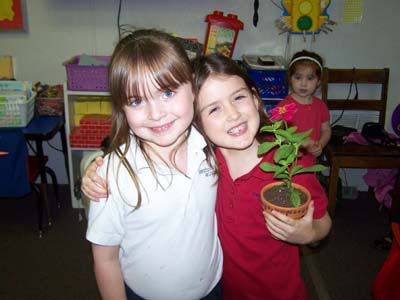 Mrs. Passifume... she is SUCH a true blessing!!
Here's Court and Aspen after school :)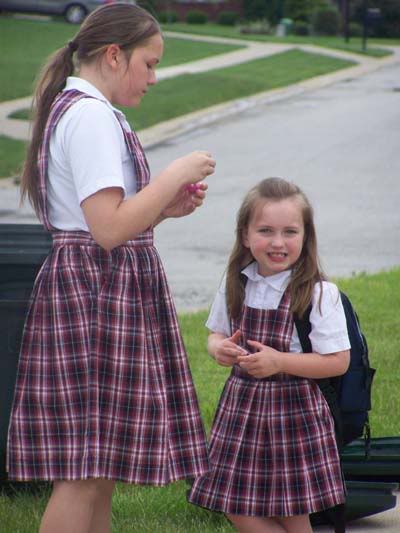 And, remember me talking about my yard and how I didn't know what were weeds, dead bushes, etc? Umm.. well, remember me yanking up two bushes on the left side of my stairs because I didn't like how they looked? Well, 2wks later the "bloomed" into this....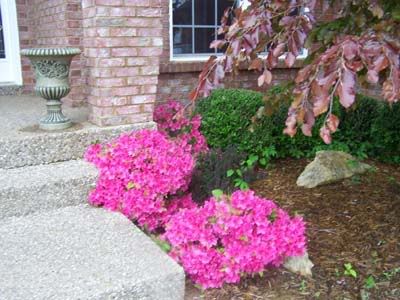 Only, that's the RIGHT side (3 bushes).. the LEFT side (ugh-hem).. only has ONE pink flowery bush. Hey, how the heck was *I* suppose to know? Is there a book on this or something? LOL.... It's a little off balanced, but... they are still pretty....
Here they are from the street.. they really stand out. Love them...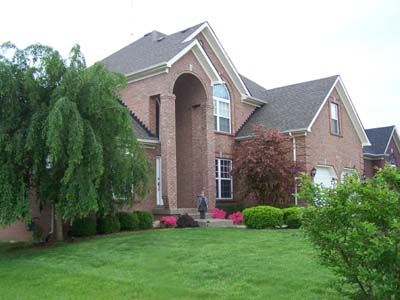 Behind Addi here is the "bad" side.. a little bare compared to the other side now, doncha think? :)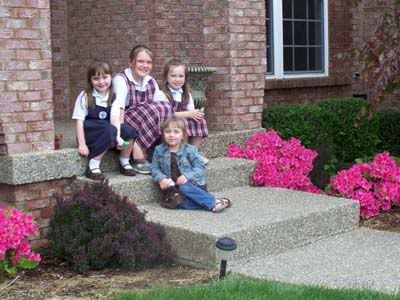 me and chelcey in the car....
.. me and darryl later that evening (it's been awhile since we've had a picture of the two of us taken)...
CHELCEY, oh Chelcey.. my very "impulsive" teenage daughter. She has now colored her hair *3* times (or wait, was it 4???) in a weeks time. She wanted her hair light brownish blond... she colored it with permenate color on accident about 9mo. ago and it's been super dark since then... she wanted it lighter. She wanted "blond", I told her no way... it would wash her out. Well, she got a box of color (light blondish brown) and it came out really cute.. more like a medium brown. VERY good match to her skin tone, I loved it.. here's how it looked:
Pretty darn cute, huh? Yeah, I thought so to. Her response? "It's not light enough, no one will even be able to tell". (do they ever listen??)..so, she goes to school- got a few comments on it, but she wanted it "lighter". So, after the speach a MILLION times on how she's going to screw it up, destroy it, *and* taking the chance of it turning ORANGE (ugh-hem!).. she didn't listen. She bought ANOTHER box (her own money this time, I wanted NO part of it!!!) of "Golden Blond"... I told her over and over "Chelc, you will NOT look right blond baby, the shade you have now is gorgouse.. if you want it lighter, lets go in and have highlights put in"... Oh, no.. that would mean that she would have to actually "wait" to have it done. (Did I mention that other than being impulsive, the kid is impatient? Yeah, something about those "IM" letters that seem to fit with her...). So.. she buys the thing anyways. I try to talk her out of it (nope!.. wasn't working). So... she dyes it.. and well, it came out ORANGEY BLOND... not the "sunkissed" look either, mind you, the "OMG.. what have I done- my hair is ORANGE" kind. So, she called me at dinner (D and I went out to dinner that night) and told me that it's messed up and the child had NERVE to ask me to go BACK to the store (it was 9pm at this point) to get ANOTHER box of hair color. "Um, NO.. sorry chick, ain't gunna happen!'.... I told her no, that she should have listened to me and that if she puts anymore chemicals on her head, her hair could either fall out or it could *really* damage it
(I should know!).
So, she went to school the next day (she's brave, let me tell you.. lol)... and got a few jokes thrown her way. "Tropicana" was one, and another was "Wow, your hair matches your skin tone exactly-- it looks
exactly
the same".. and well, not in a good way. :) LOL.. Well, after seeing the kid in misery and her NOT wanting to go to a "professional" to fix it (again: impatient and wanting it HER way...), she buys ANOTHER box of color to darken it (dark brown) and the results? RED.. it's a pretty red, the top (where it was a much lighter orangy blond) is lighter than the rest of it :) but... she's content with it.. FOR NOW.. I think because it turned orange before (and trust me, she left it on for an extra 20min. in hopes the orange would turn to blond.. NEVER happened)... but I think it pulled red from the orange hue. Good thing she's happy because well, I told her that NO WAY is she messing with it ANY MORE for awhile or she's going to REALLY mess it up. I mean really, is this kid mine or what? :) Here's the results....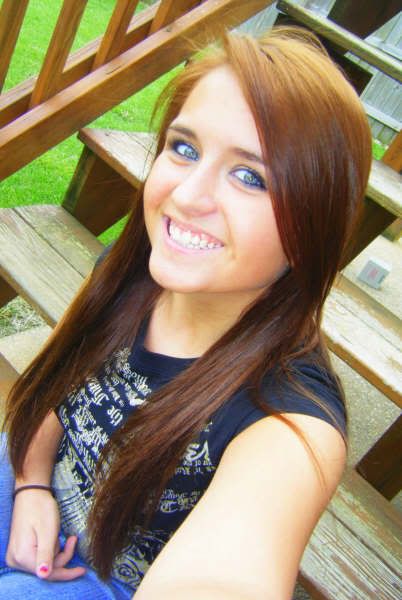 She actually has pictures of the "orangy blond" ones that I will have her send me to share.... it did NOT (let me repeat: DID NOT) look good AT ALL. It TOTALLY washed her out and man, it just wasn't right! LOL... So, humor coming your way as soon as she shares them with me :) Yeah, I'm such a nice mom... posting them online and all (lol)......
and, speaking of kids that are mine. Here's Court and Chelcey, after my own heart (chocolate and red bull)... this was taken when I was driving... Chelc took this! :) Are they really my kids? :) LOL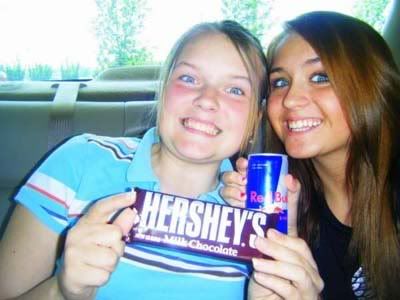 This is from this winter, but... it's not very often I find a picture of D and Chelcey, so... I just *had* to make this public record that they actually *do* get along every once in awhile :) I love this one...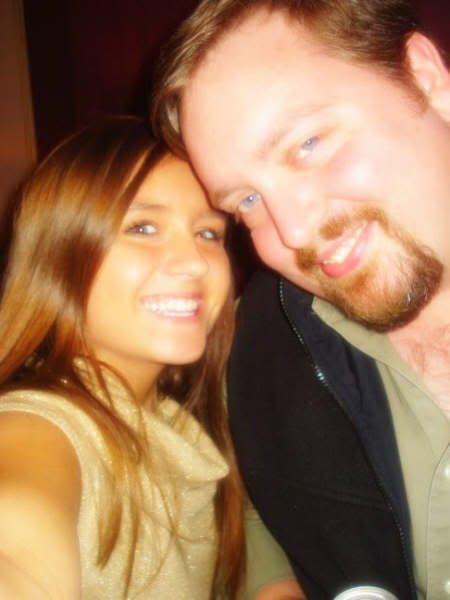 Came across this one from about a year ago.... :)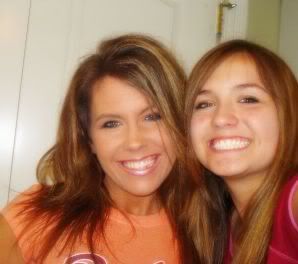 Sissy looking all... well.. sissy-ish :) and look- NO BOOGARS this time! Shocker or WHAT?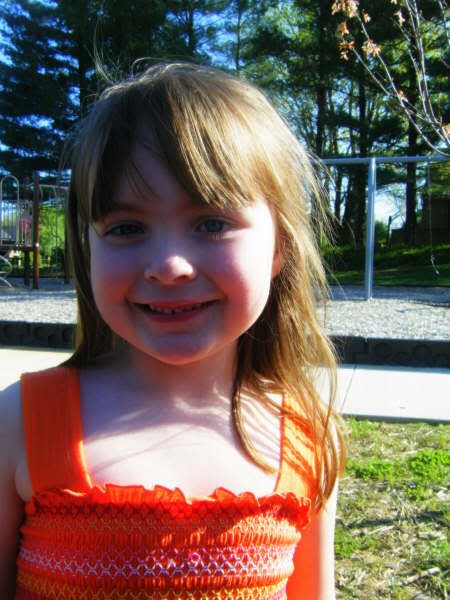 Courtney spent the night with Morgan tonight and Chelcey babysat for Pastor Darren (Youth Pastor) for a few hours. She's excite to have found a new babysitting gig.. she LOVE Natalie and Miccah... so, I'm sure she'll want to go spend the money faster than she made it (lol).
D and Ray had a *big* blow out fight tonight.... I called it "Friday night Smack down".... it got pretty intense (over the phone).... I just wish that loser would pack up and move to Colorado... but, that's a story for another day.
Ok.. it's almost midnight. Court will be here around 9am tommorow (Susan, Morgans Mom is dropping her off) and I need to pick up the living room in case she comes in. Oh.. we opted against the yard sale tommorow... but I *did* take a few pictures to post up on ebay. :) Wish me luck.... looks like it will be a quite weekend..maybe I can talk D into hanging the girls CURTAINS that we've had since, oh... CHRISTMAS!... wish me luck.. I'll take pictures if he pulls through (just ugh, don't hold your breath...)
Later!