Here are a few pictures from this week. Nothing too exciting, but... just random shots that I took of the girls.
I worked out in the yard the other day--- mainly pulling weeds (fun!), and shoveling up this area where grass has decided to grow. So.. I had the shovel out there, going to town. Aspen, inbetween bike riding, helped :) Don't ask why her shoes were off... who even knows. :)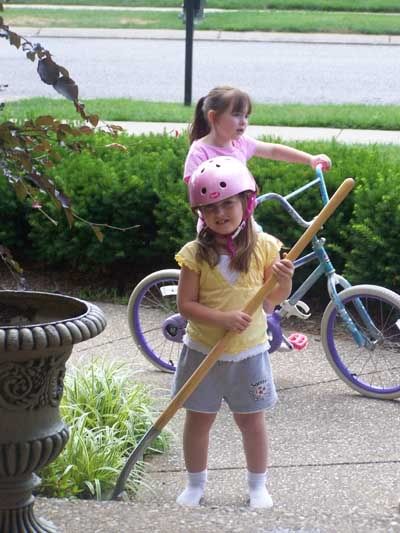 It was like Christmas for Addison, who was helping me. I would dig and find a ton of worms and the girl LOVED it. She LOVES worms... yeah, strange stuff, I know. :) But she kept picking them up and running to show her sisters. Aspen, of course, was all about it. The tomboy that she is.. now Savannah on the other hand, was quite funny! She would LOOK.. but not touch. The kid is SUCH a priss, I swear. :) Here's a few shots of Addi and her first new friend. [who, btw.. I think I may have sliced with the shovel and cut in half, lol.. poor little dude]...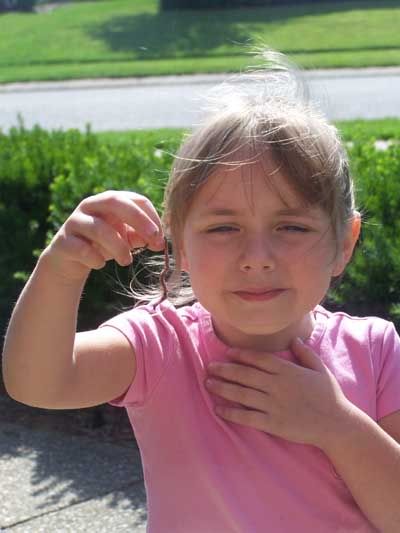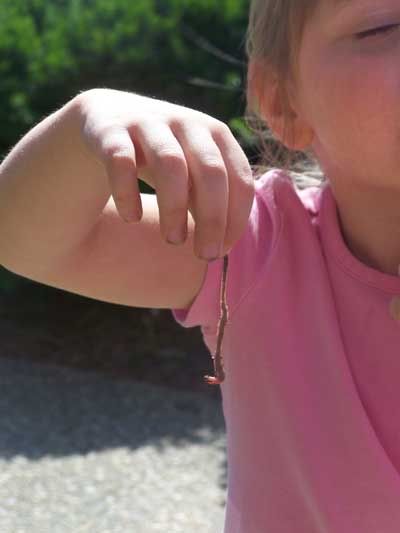 Last night, the girls and I made some sugar cookies. I had bought a big box of sugar cookie mix for Christmas that we never used, so.. we broke out the star, butterfly, and teddy bear cookie cutters and they went to town. Of course, it LOOKS gross because yeah.. my children's feet are on TOP of my counter WHILE stirring the dough. I know, I know..... gross. But well, only THEY ate the things- so does it really matter? :) :) LOL.... hey, relax- they had fun- isn't that what's important? :) LOL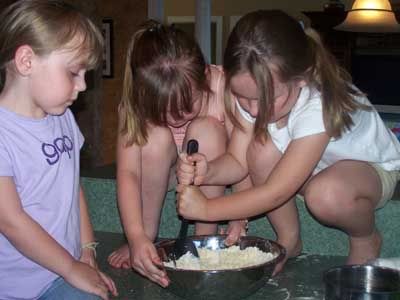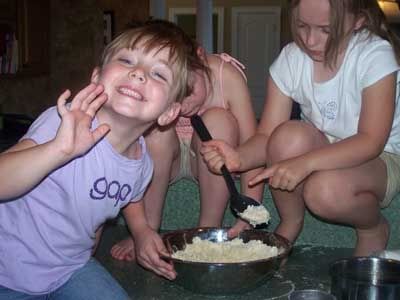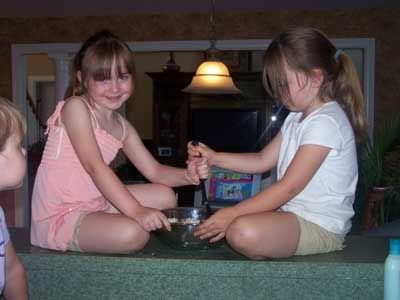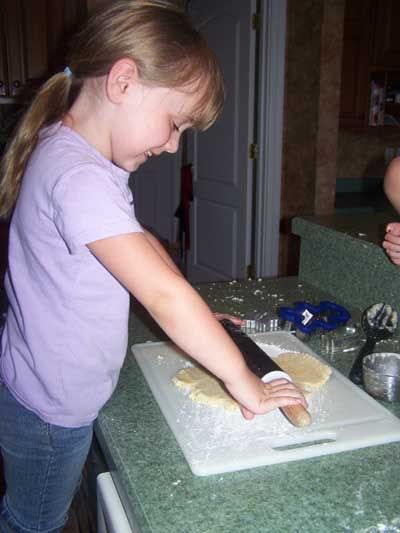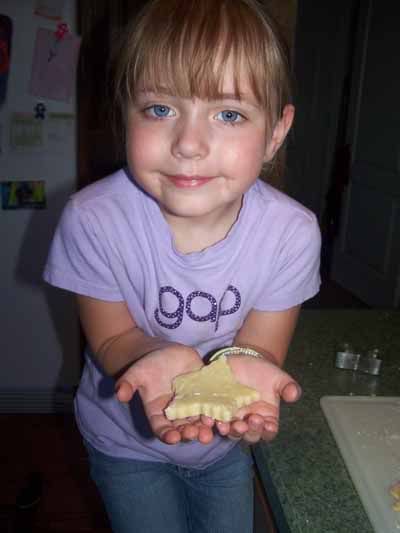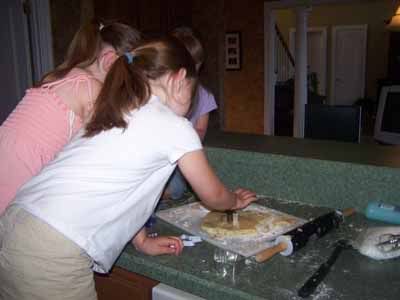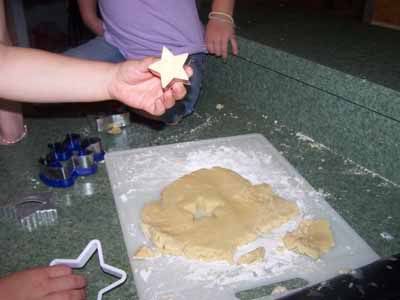 So, we put the cookies in the oven, then D took them outside to ride their bikes. I was cooking dinner, no big deal. So.. when I pulled the cookies out, about 12min. later, there was a HOLE in my oven mit and the pan burned my hand and THIS is what happened.....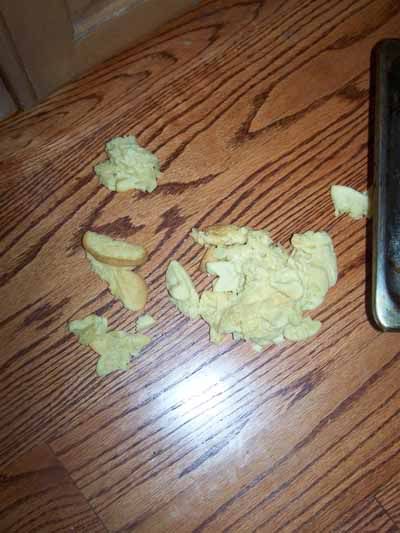 THEY WENT KA-PLUMP! on the floor! The girls worked SOOO hard on these, too. SO.. I did what ANY good mother would do. I hurry and rolled out more dough, and used the same cookie cutters that they did, and remade the things without telling them. They came in, all proud of how they turned out. BUT.... later that evening, after dinner when it was time to EAT them, Addi looked all sad and said "My butterfly cookie is gone... I made a butterfly, and it's not there!".. (all with these HUGE tears in her eyes!).. [darnit, and I thought I covered all my bases] So, I explained to her what happened and told her that we would make more in a few days. She was okay.... poor baby! :) Hey.. I tried!
We have a big jucuzzi tub in our master bath, and the girls always "swim" in there during bath time. I know, it doesn't take much for entertainment around here.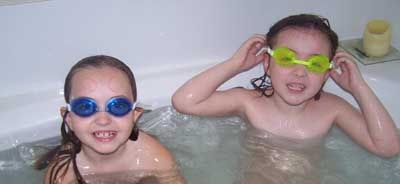 Anyways.. the girls had on their goggles...and it left these crazy eye looking things on Aspens forehead for about 2hrs. :) It was so funny!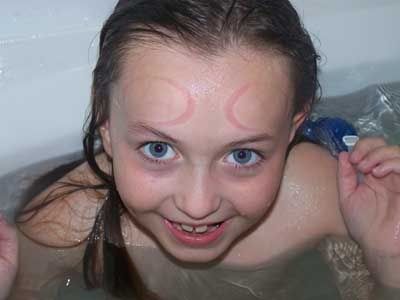 Ok... I'll end this post with another seriously crazy picture of my cat Sadie sleeping. I wonder if I could get rich off this cat, you know... send these pictures to some movie producer in hopes I can get him a gig playing dead. I mean really.. he DOES look like he's dead here.. LOVE the tail between the legs, does he play the part or what? This is such a weirdo cat :) Ya gotta love him....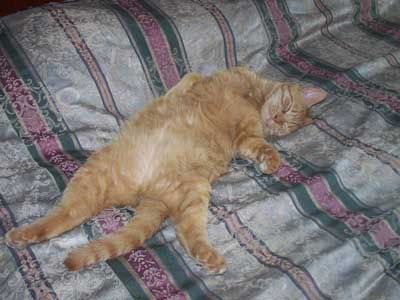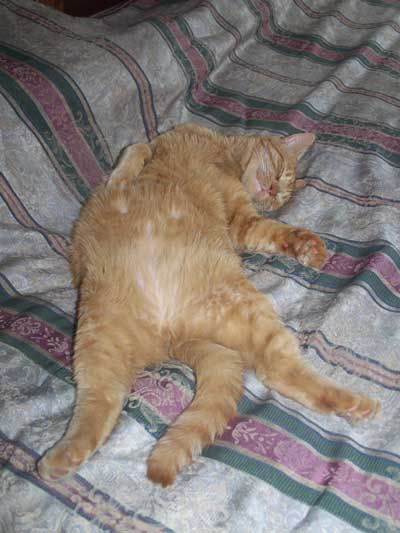 and, here he is after I woke him up... :) he gets so miffed with me snapping pictures of him, I swear... lol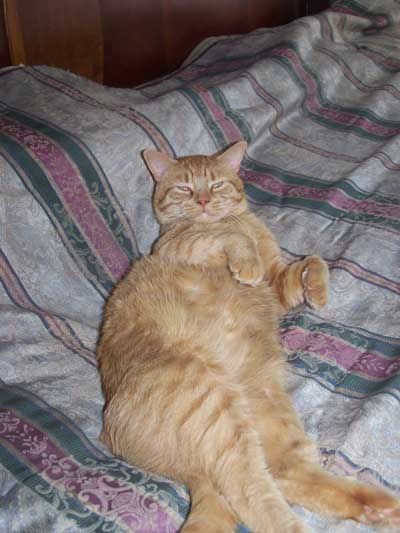 Ok, last one of Sissy and Aspen then I'm outta here! :) LATER...