The hair thing is over... yes, SUCH a wonderful thing to have it passed me. You know how it is, you're excited to go in for a change [and, to get rid of those "why are you even HERE" grey hairs"]- but the fear of the hair dresser doing her own thing [which I've learned, almost ALL hair dressers *I've* ever been to tends to do this, like
they
know what would look best on me.. please! I mean really, we could have different TASTES people, give me a break- ya know?]... or, the fear of them not knowing HOW to style or color hair.. now THAT'S always scarey! Ya know, now that I think about it....I wonder why it is that I always find those people? Anyways... I went in for highlights [wanted to come out blond.. totally have missed it the last 1.5yr], but instead, I left with a subtle change- a "lighter" version of me, which I like. I'll go back in about 6-8wks for another highlight which will take me even lighter, but... you can't go from dark [even though it was a faded dark] to a blond- just aint possible, people! So anyways... the whole expierence was great! Went to a new salon/spa which was really cool- very quite place- not enough exposure location wise, but awesome nonetheless. The girl [who was either 22 or 24] was a hoot! She kept saying I was so little that she just wanted to pick me up and carry me around! LOL.. she was funny! :) So anyways.. here are the before and after shots! The before shot was taken in Missouri last month with my grammy....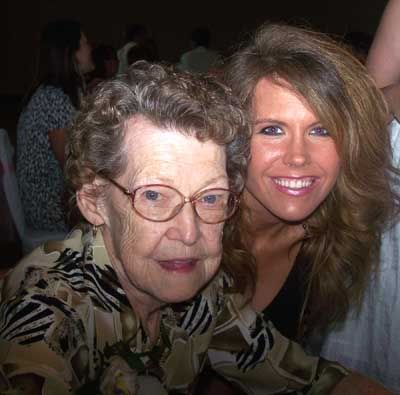 and, here are the afters...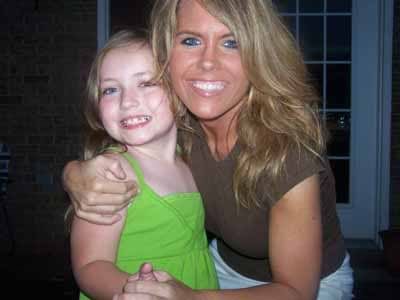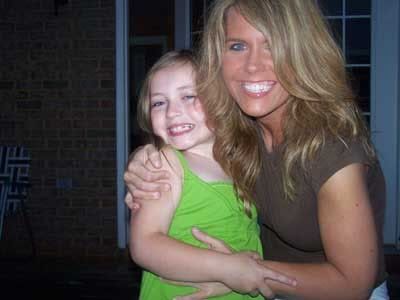 I worked in the yard this weekend- laid red mulch (really like it!) and it made SUCH a big difference. I took before/after pictures (but of course!) and once I resize them, I'll share. I only bought 8 bags of mulch and knew I should have bought more, but... what can ya do!? So, I ran out and still have half my yard to do. So, I need to head back to Lowes tommorow to finsih it up.
D worked on the tiled shower ALL weekend and he's [thisclose] to finsihing it! Can you beleive it? I'll take pictures of that tommorow to show you how it's coming along. This darn thing has been going on for-EEEEEVA it seems! But, he's done a good job, so.... who cares, right?
We had our 2nd couples counsoling yesterday... MUCH needed after the LONG week that we had with one another. VERY bad week.... session brought out a lot of emotions but.. it was good. Really good, actually. We both really like Jean [the counsolor]- she even threw in a couple of F bombs when it got intense (lol) [and well, it *was* intense] because well, I think I threw a couple out there on accident. Hey- in the heat of the moment, like you can control what comes flying outta that mouth. :) Seriously, it was good..... We are going out of town [chicago] for a week beginning on sunday, so... we went ahead and scheduled another session with her on Friday of this week. She's really good- SOOO different then the last counsolor that we saw. He would always ask "How does that make you feel?"... like a million times. SHE gives you insight as to why the behavior is happening (and she nails it every time!), she gives you steps on how to DEAL with certain issues and she just tells it like it is. She's a lot harder on D then me [do you see why I like her? j/k] honestly... she gets him to respond which is something that I have never been able to do, so... it's helpful to finally be able to "talk" about issues that have been lingering over our head that's never been dealt with before, ya know? ... She recommended a book for me called "Loving What is" or something like that... she said it would be really helpful for me and well, since I love books- thought I'd grab a copy before we leave town so I can read it on the trip down there. She really impowers you and gives you the tools to look for. We've had a really good day today.. last night, we stayed up until 4am talking- which is something that we *never* do... esp. talking about "us"., but... it was good. And, needed. We were so exzausted today... but, today has been a really good day. Hopefully tommorow can be just the same.....
My latest obsession? The Next Food Network Star on The Food Network.. have you guys seen this show? It ROCKS. It's like American Idol, only cooking..... it's so cool! D and I are both really into it :) Fun stuff!.. And, Ace of Cakes is another favorite.. and, the food challenge :) Yes, I think this is the only station, other than HGTV, TLC, and whatever channel Dr. Phil comes on (lol) that we watch in the house. Well, other than Disney. Now that I think about it... i think we've watched more TV in the last month then we have in the last few years and we still dont' watch that much. :) Anyways, wanted to throw that show out there in case you guys haven't seen it... def. a "must see!".
We had D's dad over for dinner last night. Nothing fancy... gormet burgers [as D would call them :)], corn on the cobb, and mac and cheese. We were just talking about having him over for a BBQ after we left his house yesterday (he watched the little ones when we went to the counsolor)- then he called us around 6pm after his power went out (we had a bad storm) so we brought him over here. Even his car was stuck in the garage since it was electrical. :) Most of you know that D's Mom passed away to Lung Cancer almost 2years ago... the 2yr. anniversary is coming up actually. Well, he has been talking to this woman in TX and he's going up to see her at the end of this month. He seems happier, which is really good. He also told me yesterday that he's been on e-Harmony and was sharing stories (had me rolling!) and asked me to send over a few pictures of him that I had. :) I think it's great, D is weirded out by it (I'm sure it's hard).. but.. as long as he's happy, that's all that matters, ya know?
Chelcey and Courtney come home tommorow. I finally learned how to text (yes, I'm behind the times, I know... shutup!)- but Chris doesn't get any reception up on the mountain so Chelc has been texting me verses calling becuase everytime we talk, she cuts out :) It took me awhile, but man.. I finally have it down now. GOOO Chrystal.. you old fart, you!!! LOL...
Ok... want to finish my salad. We went to Penn Station (sub shop) for dinner and I got a salad and I haven't really ate the thing... still munching on it, but D wants to watch a movie so..... better get off of here! I'll upload pictures of the yard (which isn't done, but... have to show you the progress :)), and also pictures of the girls and also this CRAZY looking critter that I found. So.. all that coming tommorow. I was going to upload them tonight but D has been having problems with his laptop (coudln't have been my fist hitting the darn keyboard, oh... a few months back, now could it? Na, that coudln't possibly be the reason.....Whooops!)- so, he finally took it in to the computer repair place today in hopes to get it up to speed so he can at least transfer his files when he gets the new laptop. So.. that means he hasn't been on the computer all night (rare) but he has been on the phone (lol).... but, I guess since it's almost 10pm, there's not a lot of people left he can talk to, so... a movie it is. ANYWAYS :) Moral of the story? The darn pictures will be posted tommorow.. until then, have a great night everyone and see ya tommorow!
Later!