Addi's little "Q & U" wedding at school on Friday was too cute! It was like a real wedding, Mr. Morgan, a 5th grade teacher, was the preacher and the vows were the same as a real wedding, only cute/humorous :) Addi was the flower girl, and little Issiah and Laura were the bride/groom. They even excahnged rings.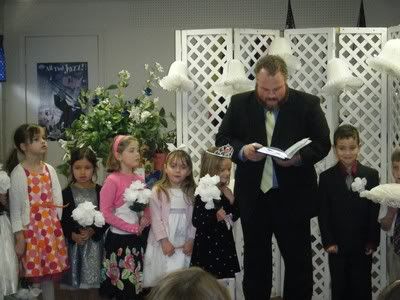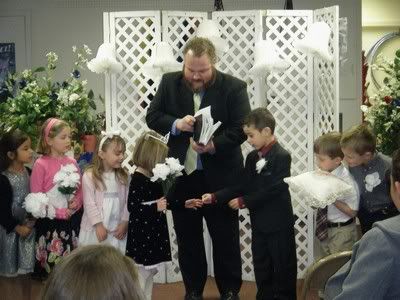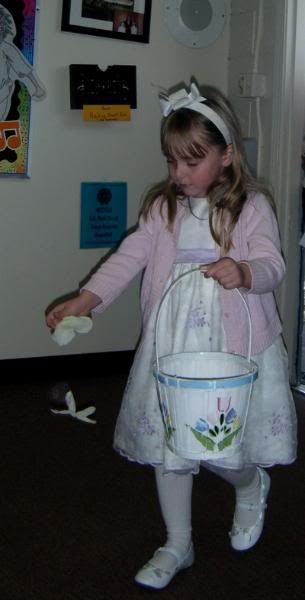 The kids just loved it! :) Afterwards, they all lined up and Issiah & Laura walked through and they blew bubbles... all giggling :) it was just too cute! Then, the reception was a Q & U shaped wedding cake :) punch, peanuts, mints, etc. I just love this age. Kindergarden is always so much fun!
Here's Addi before we left to go home :)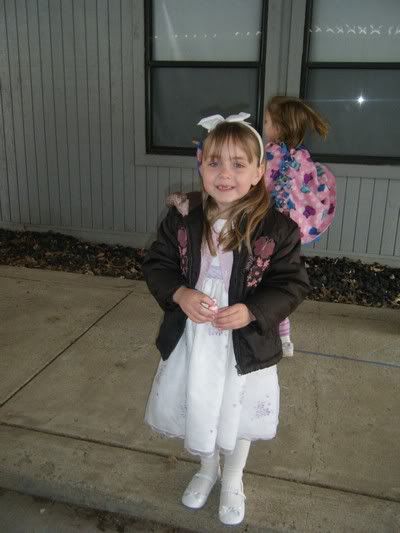 Here's Addi and Laura.. I love little Laura :) she was also in Addi's pre-school class last year.. she has the smallest little face and HIGHEST little voice ever :) She's sassy and spunky to the core.. probally why we take to one another so well :) LOL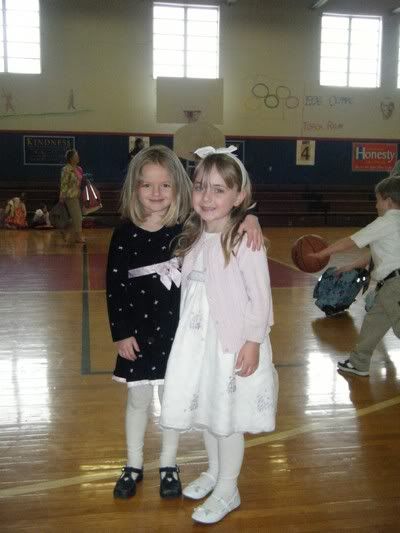 As we were waiting in the gym for Sissy and Aspen to be finsihed with school, Sis saw me and ran as fast as she could.... she was so excited to show me her spelling test :)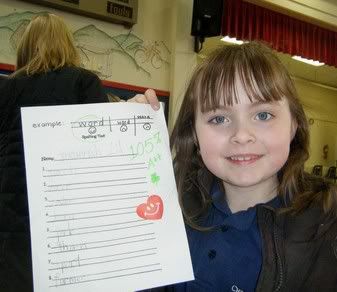 105%! She's been doing SO well.... her progress from just 2 months ago STILL baffles me. I'm hoping the comprehension is coming around, it seems to be, but... the verdicts still out on what we're going to do for next year. Either keeping her at CAL or switching her to a different style of school. So.. we're just taking it day by day.
We had an eventful weekend with Sadie. Come to find out, he didn't have a hairball afterall. He was acting (really) freaky on Saturday.. very lathagic, had fever, acted like he coudln't breath/gagging, sneezing, panting (which I learned is a BAD BAD sign for cats) etc... we took him to the vet, where they charged us $270 :eek where they did exrays, gave him a shot of antibotics (he was running high temp), and also a shot of cordizon as they treated him for a respitory infection. He's doing LOTS better now... slow but steady is his improvement. He is actually breathing normal now.. still sneezing a lot & rubbing his little eyes.. but he's SOOOO much better. I wonder if he has allergies? I'm telling you, living in Louisville is HORRIBLE since we're right by the Ohio valley--- the pollen and allergies are the WORST around here. Aspen is already starting to get the red/itchy eyes and scratchy throat.. last year she got them BAD. We bought some local honey, which is suppose to help immune your body from it, but... we'll see. Anyways.. the Sadster is hanging in there and doing good. THANK GOD!
I had high hopes for a "crafty Saturday" and do nothing but hang out in comfy clothes and sew, make bows, etc. :) BUT.. life had other plans. I did manage to make some korker ribbon (3 batches) so at least I'm ready to assemble the bows now. AND.. I took a stab at my first applique tee shirt. Didn't come out horrible for my first time sewing :) but I had the wrong size of needle in the first time.. poked holes
(great....)
in the fabric, so.. I had to stop and change that sucker out. THEN, my bobbin got tabgled and started bunching the thread at the top (which you can tell in the picture) but overall, not *too* bad. It could be a lot worse. :) I had fun, though and can't wait to do the girls tee shirts. I bought them a few white tees at walmart for $3 each and picked up some new fabric at Hancocks (I was tehre 3x this week if that tells ya anything.. lol). I'm excited. I found *lots* of cool patterns which I'll be sharing later for things like skirts, shirts, socks, pillowcases, dresses, bags, etc. etc. I'm telling ya, this sewing thing has grabbed me and I would rather not leave my house and would be content just staying home and sewing/making crafty things. LOL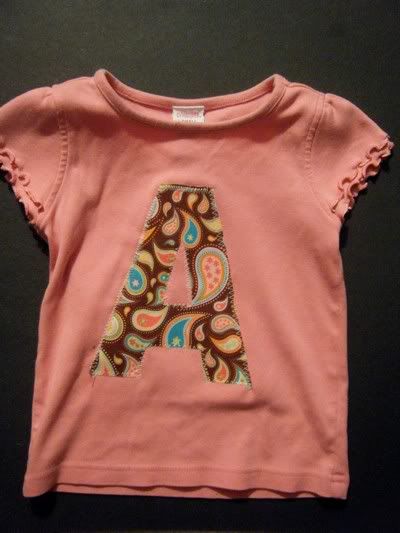 Close up where you can see how inconsitent the stiches were and how it bunched up at top (lol).. oh well, first go people.. cut me some slack :) Practice makes perfect, right? :)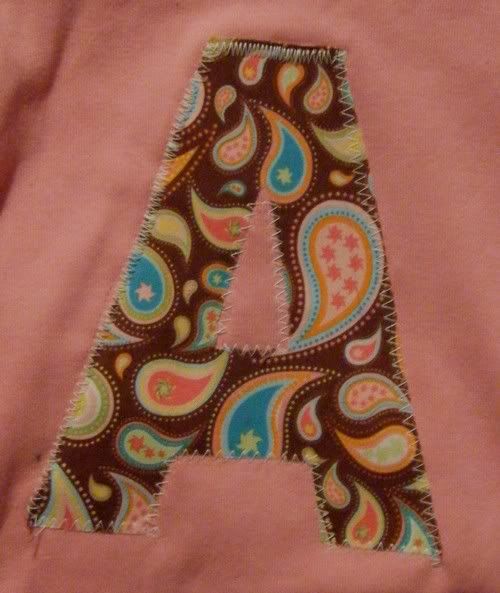 I want to do this design next :) Should be fun.... (umm.. HARD, but FUN!!) :)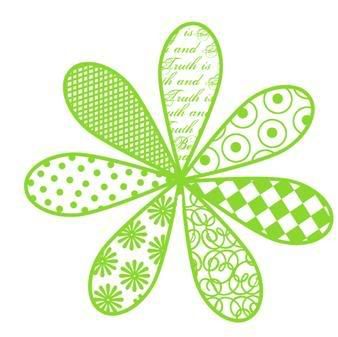 Friday night Chelcey and I had a good time. We hit Walmart, Micheals, and the fabric store (got lots of cutsy ribbon and fabric stuff).. then she talked me into taking her to the mall which I was dreading until I got there (which is typical for me... once I'm in there, I get the shopping/retail high and leave so full of engery & smiles.. lol). I ran into 5 people that I know which is always cool. :) The best score was at Forever21.. they were having "Buy 1 shirt, get one for 1/2 off".. so I scored 2 cute shirts (one was on sale for $10, and got it for $5.. HELLO!).. and they had a sale where if you spent $25, you get a FREE spring scarf which was *awesome* because she and I were BOTH eyeing them when we walked in :) So.. got a free scarf, too which was awesome. AND.. you know how much I LOATHE the color yellow? Yeah.. I grabbed the yellow one and I was eyeing looking at a YELLOW shirt.. could I possible be *liking* yellow now? :) Shocker, I know.... We had a good time.. laughed (a lot)... and jammed out to the radio on the way home. Then, when we got home, D and I went out to eat (Ruby Tuesdays) which was nice. :) So.. Friday was a good day!
Okay.. need to run! Have to go to the store, to the post office, and to tan! BUT.. wanted to update :) Hope you guys are enjoying this awesome weather... I am SO ready for it to stay this way!
LATER!